Liverpool Overcame All The Odds To Knock Out Barcelona
Published on May 8th, 2019 1:49 pm EST
Written By:
Dave Manuel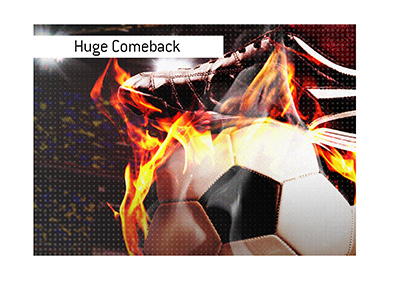 Practically nobody was thinking that Liverpool had it in them to actually knock Lionel Messi and Barcelona out of the Champions League.
After all, Liverpool had fallen 3-0 to Barcelona in the first leg of the match. Not only was Liverpool behind by three goals, but they had failed to score a road goal as well.
In addition, Mohamed Salah, one of the best players in the world, was missing the second leg of the match in Liverpool.
So, not only did Liverpool have to keep Lionel Messi, Luis Suarez and the rest of the Barcelona talent off of the board, but they would also need to score at least three goals without the services of Mohamed Salah.
Impossible, right?
Oddsmakers set the odds of Liverpool coming back to defeat Barcelona at
18.00
. People deciding to back Barcelona after the first leg, however, were going to get back pennies on the dollar if they decided to bank on Lionel Messi and company.
-
In the end, Barcelona completely collapsed, making gaffe after gaffe to hand Liverpool the victory.
The result was even more surprising given the fact that Barcelona had their own "remontada" two years ago against PSG, when they overcome a 4-0 first leg deficit to shock the French team 6-5 in aggregate.
If there was any team that should have been aware of the possibility of giving up a massive lead, it was Barcelona.
-
Liverpool backers are living in a dream right now, as their team is one win away from Champions League glory.
On top of that, Liverpool still has a chance to win the English Premier League, if Man City can stumble this weekend.