Messi Expected to Stay With Barcelona For One More Year
Published on September 3rd, 2020 5:06 pm EST
Written By:
Dave Manuel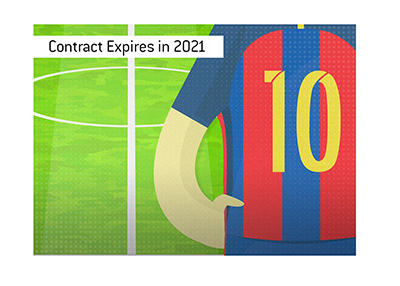 Bookmakers now believe that football superstar Lionel Messi will remain with Barcelona for at least one more season.
As of this moment, Messi is a 2/7 favourite to remain with Barcelona, while Manchester City is seen as a 5/2 underdog.
So what has changed in the past week?
To start, La Liga ruled that any team that acquires Messi will need to pay a massive transfer payment. Messi and his team believed that since the league year had been extended due to Coronavirus, his deadline to opt out of his contract was also pushed back. Barcelona, on the other hand, believed that his deadline remained concrete (end of June).
Earlier today, Messi and his associates reportedly met with Barcelona for 90 minutes of talks. These talks were reported to be cordial, and Messi's side acknowledged that remaining with Barcelona for another season was a possibility.
Barcelona reportedly took things a step further and wanted to open negotiations for an extension of Messi's deal.
There is no doubt that Messi was unhappy with his situation at Barcelona, though perhaps he was surprised at the massive outpouring of support that he received from Barcelona's fans.
If certain changes are made, there appears to be a strong likelihood that Messi could stay with Barcelona for at least one more season, and perhaps even longer.
Fans of Manchester City were salivating at the possibility of acquiring one of the world's best players, though it seems as though that the likelihood of that happening is receding by the day.
Messi is a fantastic player, but there is no way that Manchester City is paying a reported $800 million to secure Messi's release this season.
-
Here are the current betting odds as of this moment, courtesy of a major European sportsbook:
Who will Messi play for next season?
Barcelona, 2/7
Man City, 5/2
Inter Milan, 28/1
PSG, 28/1
Manchester United, 33/1