Red Bull Leipzig vs. Olympique Marseille - UEFA Europa League Preview
Published on March 19th, 2018 - 9:37am EST
Written By:
Ariel Noel
Click Here to Bet on Leipzig vs. Marseille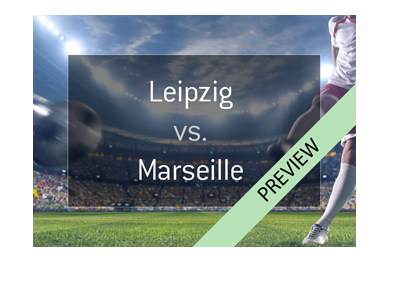 Things are heating up in the UEFA Europa League. An exciting matchup coming our way is the one between the new force in German football, Red Bull Leipzig, and the French old guard, Olympique Marseille. The two are meeting up in the tournament quarter-finals on April 5th and April 12th, 2018.
Red Bull Leipzig are building a name for themselves at a pace that is fast and furious. The club was founded in 2009, started in the fifth division of German football and with the heavy investment of the parent company Red Bull, they made their way to the top flight for the 2016/17 season. They managed to finish second, behind Bayern Munich, and made their way to the UEFA Champions League. The engines cooled off a little bit this season domestically and the team is currently in sixth place, but only two points behind the fourth. The club celebrated their first victory over Bayern Munich over the weekend, coming from behind and beating the Bavarian giants 2:1 on home soil.
Olympique Marseille are currently in third position in the French Ligue 1 standings behind PSG and Monaco. They had an opportunity to solidify their spot in next year's Champions League, but they lost their most recent home match vs. fourth place Lyon, who are now trailing by two points only.
On their way to Europa League quarter-finals, Red Bull Leipzig eliminated Napoli and Zenit, while Marseille took care of Braga and Athletic Bilbao.
The odds for the upcoming Europa League clash are:
Source: Bet365
Time Stamp:
March 19th, 2018 - 8:28am EST
Odds Subject to Change
RB Leipzig: 17/20
Draw: 12/5
Marseille: 10/3
To qualify to semi-finals:
RB Leipzig: 4/5
Marseille: 19/20
To win Europa League:
RB Leipzig: 9/1 (4th favourite)
Marseille: 10/1 (5th)
--
This matchup looks very even according to the odds. Leipzig are the favourites to win at home, but over two legs, it is anybody's guess. With Atletico Madrid and Arsenal still alive in the tournament, Leipzig and Marseille are not the favourites to win the Europa League this season, but they are not to be discounted.
The current squad valuations of the two clubs, according to the Transfermarkt website are:
Leipzig: €305m
Marseille: €184m
Timo Werner and Naby Keita combined account for €110m of the Leipzig valuation, while the highly rated midfielder Florian Thauvin and the club legend Dimitri Payet are the highest valued players for Marseille.
This Europa League clash promises to be entertaining and will be the first choice game to watch on April 5th for many viewers around the world.
Enjoy the match everyone!