Bisping Takes Fight on Short Notice Following GSP Loss
Published on November 12th, 2017 8:57 pm EST
Written By:
Dave Manuel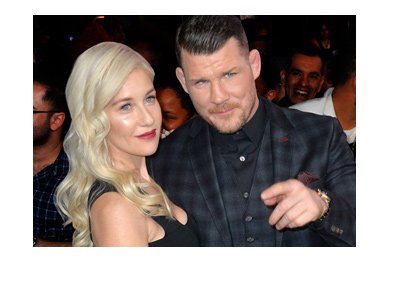 Michael "The Count" Bisping, fresh off of his loss to Georges St. Pierre at UFC 217 last weekend, has agreed to fight Kelvin Gastelum at the upcoming UFC Fight Night card in Shanghai, China on short notice.
Anderson "The Spider" Silva was supposed to take on Gastelum, though the former Middleweight champion was pulled from the card due to an alleged USADA violation.
This left a gaping hole in a card that desperately needed a big name to headline it. After all, this is the UFC's first trip to mainland China, and they don't want to bring in a disappointing main event.
Michael Bisping, who is always up for a short notice fight, volunteered his services, despite the fact that he took quite a beating at the hands of Georges St. Pierre. China does not have an athletic commission, so clearing Bisping for the fight won't be an issue (he is under medical suspension, though China doesn't have an athletic commission, so it doesn't apply).
This leaves Bisping, who some thought would retire after losing to St. Pierre, fighting another top opponent in a little less than two weeks. It should be another nice payday for Bisping, who will surely be getting a bonus for taking the fight on such short notice.
-
Given Bisping's recent loss to St. Pierre, one would have to think that Gastelum certainly has the advantage heading into this fight, as he will be much fresher.
Bisping, however, has a history of doing very well when the odds are against him - for an example of that, see his UFC 199 tilt against Luke Rockhold.
-
Bisping's path to victory will be to take the fight into the championship rounds, where he will likely enjoy a very big cardio advantage over Gastelum. Bisping will look to overwhelm Gastelum with his volume striking and score a later round stoppage.
Gastelum, on the other hand, will look to ground down Bisping with his strong wrestling - in many ways, he will employ a similar strategy as Georges St. Pierre did.
-
Given the short notice of the fight and the fact that Bisping sustained some damage against St. Pierre, I would expect Gastelum to be a decent sized favourite when odds for this fight open up.
That being said - anything can happen, especially when it involves Michael Bisping.