Juventus vs. Real Madrid - Champions League Quarter-Final Preview
Published on March 18th, 2018 - 8:49am EST
Written By:
Ariel Noel
Click Here to Bet on Juventus vs. Real Madrid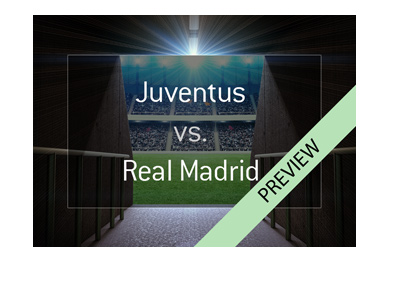 Two old foes, Juventus and Real Madrid, meet again in the 2017/18 quarter-finals of the Europe's most prestigious club competition, the UEFA Champions League. The two teams played in last season's final, with Real Madrid winning the Cardiff match with the score of 4-1.
Out of the four quarter-final matchups, this one is perhaps the most eye-catching. Both teams have the winning mentality and a very rich footballing history.
Real Madrid are chasing their 13th Champions League title. They remarkably won 3 out of the last 4. If they go all the way this season, it would be a hat-trick, something only Bayern Munich were able to do back in 1976.
Juventus were in 2 out of the last 3 finals, losing both times, first to Barcelona then to Real. Juve have won the tournament twice, last time in 1996, and were the runners up 7 times.
The first leg of the tie will take place on Tuesday, April 3rd in Turin and the return leg is scheduled for April 11th in Madrid.
The odds for the upcoming match are:
Source: Bet365
Time Stamp:
March 18th, 2018 - 8:18am EST
Odds Subject to Change
Juventus: 6/4
Draw: 9/4
Real Madrid: 9/5
Odds to advance to semi-finals:
Juventus: 13/8
Real Madrid: 4/9
--
The Old Lady is the favourite to win the game at home by the slightest of margins. The Los Blancos, on the other hand, are the favourites to go through over two legs.
Juventus are the last team to eliminate Real Madrid in the Champions League. They did so in the 2015 semis.
Cristiano Ronaldo is the tournament top scorer this season so far with 12 goals and also the all-time record holder with 117 goals. He saves his best for the Champions League and this time it will probably be more of the same.
The Juventus striker Gonzalo Higuain played for Real Madrid from 2007-2013 and will be making his first return to the Bernabeu. This is something to look forward to as he is in top form at the moment.
Both clubs impressed with memorable performances in the Round of 16. Real ousted Paris Saint-Germain 5-2 on aggregate, while Juventus performed a blitz-comeback vs. Tottenham at Wembley, winning 4-3 overall.
--
Juve will have to play the first leg match without Miralem Pjanic and Medhi Benatia due to suspensions, while Zinedine Zidane has a full squad at his disposal.
This should be a fascinating matchup.