Huge Game in Italy This Sunday - Juventus vs. Napoli
Published on April 19th, 2018
Written By:
Ariel Noel
Click Here to Bet on Juventus vs. Napoli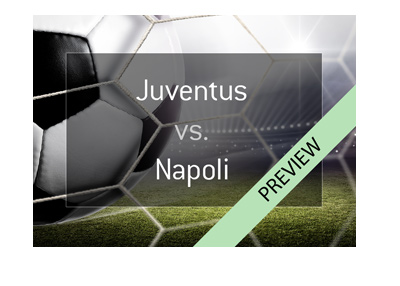 With five games to go in the Serie A season, first place Juventus host second place Napoli on Sunday, April 22nd. There are four points between the two teams at the moment and with a win Juventus could seal their 7th consecutive title. If Napoli can edge out a victory, things could get very interesting.
This is the first time in a long time that Juventus are being properly challenged for the scudetto. They will have to bring their top game against Napoli, as before the season ends they still have to lock horns with fifth place Inter and third place Roma. Both are tough games. Napoli, on the other hand, have a more favourable schedule and a better goal differential going into the final stretch.
Juventus slipped in their mid-week away game vs. relegation candidates Crotone, drawing 1-1. Napoli capitalized with a 4-2 win vs. Udinese.
Juve vs. Napoli should be a great match. With all other big European league winners already decided, all eyes will be on the Allianz Stadium in Turin.
Can Napoli stage an upset or is it all over? Let's take a look at the odds:
Source: Bet365
Time Stamp:
April 19th, 2018 - 8:21 am EST
Odds Subject to Change
Juventus: 11/10
Draw: 23/10
Napoli: 11/4
To win outright:
Juventus: 1/9
Napoli: 6/1
--
Juventus are the favourites to win on Sunday and huge favourites, according to the odds, to claim their seventh consecutive Serie A title.
The heavy odds in favour of Juventus are justified. Juve won in Naples earlier in the season (0-1) and they also eliminated them in the semi-finals of the cup (5-4 on aggregate). Juve have an impeccable record in front of their home fans in the Italian league, but they are not bulletproof. Juventus lost their European games to Spurs and Real Madrid at home recently. Napoli will need a big performance on Sunday to stir things up and threaten the pecking order in Italian football.
What makes things a little more interesting is that Juventus had a spectacular fallout in the Champions League at the hands of Real Madrid recently. Have they recovered mentally remains to be seen.
Let's see how things play out. It should be a heated affair and the stadium will be filled to the last seat. It is the business end of the season.
Enjoy the match everyone!