Juventus Stock Price Soars Following Cristiano Ronaldo UCL Heroics
Published on March 14th, 2018
Written By:
Ned Wilson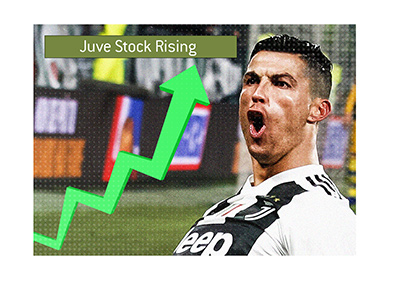 Ronaldo's hat-trick against Atletico Madrid sends Juventus into the quarter finals of the Champions League and price of shares follow suit.
After having secured his eight Champions League hat-trick, which saw Juventus advance to the quarterfinals of this year's Europe's elite club competition, Ronaldo could also be credited with a positive reaction on the Italian stock market to the result, as Juventus shares rose 17% for the day, after opening Wednesday's trade up 20%.
The advance to the quarter final stage of the Champions League will also see Juventus earn an additional €10.5 million, on top of the €9.5 already earned for making the previous round. Juventus, who last won the competition in 1996, will now have their eyes firmly set on bringing back the title to Turin and with it a hefty check from UEFA, which will reward the Champions League winner with €82.5 million. This is a record amount to date, as UEFA has changed the rules regarding a prize money distribution this year, with a total of €2 billion that will be distributed among the participating clubs. Sponsorship and broadcasting rights will only add to the sum, which Juventus and other clubs will earn this year from the Champions League.
All this bodes well for the Agnelli family which, through its investment vehicle Exor, owns around 64% of the club and has been instrumental in bringing Ronaldo to Juventus from Real Madrid in a deal worth €100 million.
The share in price on Wednesday saw Juventus valued at €1.5 billion, 100% up from the same period last year.
--
With plenty at stake for each of the remaining clubs, let's take a look at the odds for the winner of this year's edition of the Champions League with the final set to be played in Madrid on June 1st:
Source: Bet365
Time Stamp:
March 14th, 2019 4:26 am EST
Odds Subject to Change
Man City 3.50
Barcelona 4.33
Juventus 5.00
Liverpool 5.50
Man Utd 13.00
Tottenham 15.00
Ajax 26.00
Porto 81.00