Record Belongs to Portsmouth and Reading
Published on February 19th, 2019 10:02 pm EST
Written By:
Dave Manuel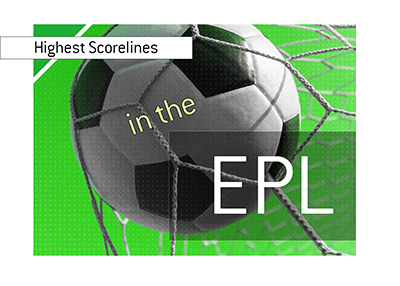 The English Premier League was established in February of 1992.
Since that time, there have been some very high scoring matches. Each and every year there will be a match or two that produces an offensive explosion, which leads people to wonder if they have just witnessed the highest scoring game in the history of the league.
The record for the highest scoring game in the history of the English Premier League, in fact, belongs to a 2007 contest between Portsmouth and Reading.
Portsmouth, which was the home side, ended up winning the game by a score of 7-4. Benjani Mwaruwari had a particularly good game, as he was able to notch a total of three goals.
There were two own goals in the game (one by each side), as well as one goal that was scored via a penalty.
This 11-goal outburst has the record all by itself. After that, there have been a total of 5 games in which there have been 10 goals scored:
Tottenham Hotspur 6-4 Reading (2007)
Tottenham Hotspur 9-1 Wigan Athletic (2009)
Manchester United 8-2 Arsenal (2011)
Arsenal 7-3 Newcastle United (2012)
West Bromwich Albion 5-5 Manchester United (2013)
The result here that should stand out is Manchester United's 8-2 drubbing of Arsenal in 2011, as Arsenal typically has a strong club. Arsenal's club was decimated by injuries and suspensions, though Manchester United took no mercy as they handed Arsenal their worst defeat since 1896.
-
The biggest margin of victory in the history of the English Premier League belongs to Manchester United, who thumped Ipswich 9-0 in March of 1995. Three teams have won by 8 goals - Tottenham (9-1 victory over Wigan in November of 2009), Chelsea (8-0 victory over Wigan in May of 2010) and Newcastle (8-0 over Sheffield Wednesday in September of 1999).
Poor Wigan, as they were on the losing end of two of the biggest losses in the history of the English Premier League.