Teams Filling The Net With Reckless Abandon To Start The Season
Published on October 5th, 2020 3:29 pm EST
Written By:
Dave Manuel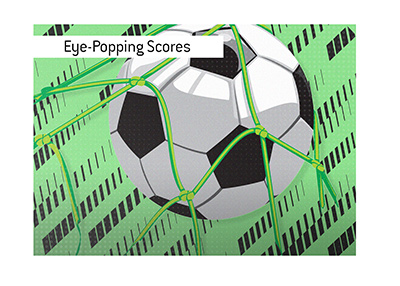 It's not your imagination - teams are absolutely filling the net with reckless abandon in the early weeks of the 2020-21 English Premier League season.
7-2 for Aston Villa against Liverpool and 6-1 for Tottenham over Manchester United were just some of the eye-popping score lines from this past weekend in the English Premier League.
Over bettors have been having a field day so far this year, as the Over has cashed in nearly 70% of the English Premier League matches so far this year.
Games involving teams such as Manchester United, Arsenal and Leicester have been particularly high-scoring so far this season, as none of these clubs have yet to play in a match that has gone under the total.
According to
Soccerstats.com
, there have been 144 goals scored in 38 goals so far this season, which averages out to an eye-watering 3.79 goals per match.
Two teams - Liverpool and Manchester United - have been involved in games so far this season that have produced more than 5 combined goals on average.
In the 2019-20 English Premier League season, there were a total of 1,034 goals scored over a total of 380 games, which averaged out to 2.72 goals per match.
As you can see, we are far above that total. It stands to reason that things should calm down as the season progresses, though there may be other factors at play.
-
Is there a reason behind this trend of more goals this season?
Some people believe that many players are exhausted thanks to the quick restart this season, and this is leading to some looser play.
Whatever the reason, the goals are coming in bushels this year, and this is good news for many football fans.