Ngannou Major Favourite To Defeat Dos Santos
Published on June 24th, 2019 7:13 pm EST
Written By:
Dave Manuel
Click Here To Bet on Dos Santos vs Ngannou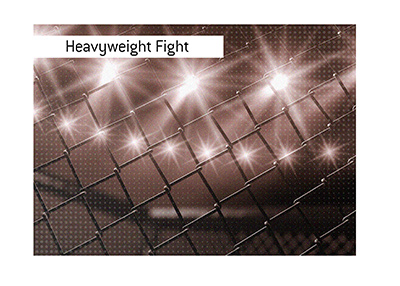 A fight with major Heavyweight title implications will be taking place in the main event of UFC on ESPN this weekend. The card will be taking place at the Target Center in Minneapolis, Minnesota.
This is a fascinating fight, as it pits a former Heavyweight champion (Junior dos Santos) against Francis Ngannou, which is a raw but talented Heavyweight. The winner of this fight will almost certainly get the next shot at the Heavyweight title, which will be either Stipe Miocic or Daniel Cormier. If Cormier defeats Miocic in August, there is a possibility that Cormier either retires or moves down to Light Heavyweight to take on Jon Jones, so the winner of Ngannou vs dos Santos may find themselves in a fight for the vacant title.
Francis Ngannou seemed to be poised to capture the Heavyweight title after crushing defeats of names such as Alistair Overeem. The Ngannou hype train came to a crashing end at the hands of Stipe Miocic, and the UFC seemed to lose interest in Ngannou as a Heavyweight contender. Much to his credit, however, Ngannou has continued to win since then and is a legit title contender once again if he defeats dos Santos.
Dos Santos has seemingly recaptured his mojo as well, as he has been mowing through the Heavyweight division as of late. Dos Santos had some personal problems that seemed to temporarily derail him, though he seems to have gotten things back in order.
-
This fight will almost certainly go either one of two ways:
1) Ngannou takes Junior's head off early in the fight.
2) dos Santos weathers the early storm and picks apart Ngannou, possibly winning via decision.
Dos Santos is clearly the more skilled fighter, though Ngannou probably has more power than anyone in the Heavyweight division. Miocic seemed to show the world the blueprint for beating Ngannou - withstand the early onslaught and then slowly grind away at him. Dos Santos is very good on the ground, so taking Ngannou to the ground will almost certainly be part of his game plan.
-
Let's take a look at the odds for this fight, courtesy of Bet365:
Source: Bet365
Time Stamp:
June 24th, 2019 7:03 pm EST
Odds Subject to Change
Francis Ngannou, 1.40
Junior dos Santos, 3.00
-
Who do you think will win on Saturday night?