Liverpool Could Stand Alone At The Top if They Continue Their Torrid Run
Published on June 20th, 2020 1:32 pm EST
Written By:
Dave Manuel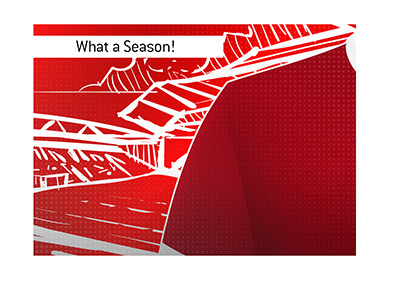 Liverpool is, without a doubt, putting together one of the greatest English Premier League seasons of all time.
Liverpool is set to play Everton on Sunday in their first return to EPL action since the season was paused due to the Coronavirus.
Liverpool has put together a stunning, mind-bogglingly good season. To illustrate, how about you consider this - Manchester City has a record of 19-3-7 and they are TWENTY-TWO points behind Liverpool in the table.
The numbers for Liverpool are staggering this season. They are currently 27-1-1 for a total of 82 points. They have scored the second-most goals in the league and have allowed the least, for a league-best goal differential of +45.
With wins in their next two games, Liverpool can wrap up the title with a large chunk of the season left to play.
-
The question now is - how does Liverpool's season stack up against the other greatest English Premier League teams of all time?
As of this moment, Liverpool is on pace to become the greatest EPL team of all time by the Points/Match metric.
Here are the five greatest English Premier League seasons of all time by Points/Match, including Liverpool's current pace for this season:
2019/20, Liverpool, 2.83
2017/18, Manchester City, 2.63
2018/19, Manchester City, 2.58
2004/05, Chelsea, 2.50
2016-17, Chelsea, 2.45
-
While these are the five greatest SEASONS of all time in the English Premier League, the consensus opinion is that the 2007/08 version of Manchester United was the greatest EPL TEAM of all time.
That team included Cristiano Ronaldo, Wayne Rooney and Carlos Tevez. While Manchester United didn't break any records, they did win the English Premier League title as well as Champions League that season.
-
The topic of greatest EPL team of all time will always be up for discussion, as there are multiple factors involved, including strength of competition, finishing record, overall dominance (goal differential, etc).
With that being said, Liverpool is on track to post the greatest season of all time, based on points/match.