2017-18 UEFA Europa League Final Preview - Marseille vs. Atletico Madrid
Published on May 16th, 2018 - 8:17am
Written By:
Ariel Noel
Click Here to Bet on Atletico Madrid vs. Marseille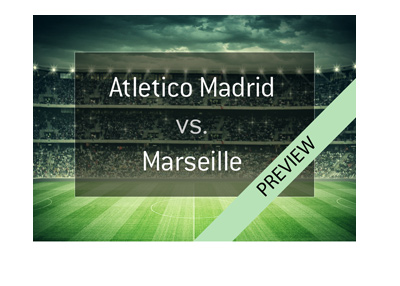 Atletico Madrid and Marseille meet in the UEFA Europa League final later today in Lyon, France. This should be a great match between two clubs well deserving of a place in the the tournament's last game.
Atletico are the more experienced side and the favourites to win. After all, they have been in two Champions League finals in the last four years and won the Europa League in 2010 and 2012. Marseille, on the other hand, have been playing very exciting football in this season's tournament and will have support from the stands as the game is played in France.
On the road to the final Marseille eliminated Braga, Athletic Bilbao, Leipzig and Salzburg, while Atletico Madrid, who made their way from the Champions League, got the better of Kobenhavn, Lokomotiv, Sporting and, most recently, Arsenal.
The odds for the upcoming game are:
Source: Bet365
Time Stamp:
May 16th, 2018 - 7:49 am EST
Odds Subject to Change
Marseille: 15/4
Draw: 23/10
Atletico Madrid: 19/20
To lift the trophy:
Marseille: 2/1
Atletico Madrid: 2/5
--
As we noted earlier, Atletico Madrid are the favourites to come out victorious in this match. But a final played so close to Marseille could prove to be a big factor.
The star players on the Atletico side are Antoine Griezmann, Diego Costa and Koke, while Marseille can count on Florian Thauvin and Dimitri Payet to bring on the style.
It is interesting that no club from France has ever won the UEFA Cup / Europa League. Will Marseille be the first? It would be something special if they can do it, and especially in their native France. Another incentive for Marseille in this match is the potential of playing Champions League football next season if they can manage to win today. As things stand, Marseille are 4th in the Ligue 1 standings and are trailing Lyon by one point with one game left in the season. France is awarded three spots in the 2018/19 UCL.
Atletico are second in the Spanish La Liga standings and have already secured Champions League football for next season.
On top of revenues generated so far in the tournament, the winner of today's match will receive €6.5m from UEFA, while the runner-up gets €3.5m.
Enjoy the game everyone!