Manchester City Still Clear Favourites To Win English Premier League Title
Published on November 3rd, 2018 10:23 am EST
Written By:
Dave Manuel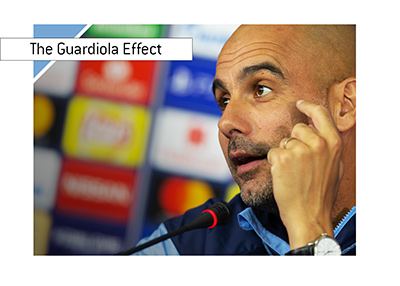 Despite the strong early performances from the likes of Liverpool, Chelsea and Arsenal, bookmakers just aren't buying the idea that any of them could be a challenger to Man City's throne.
Almost everybody expected that Manchester City would win another league title this season. True to form, they have gotten off to a great start, compiling a record of 8-2-0 after their first 10 games. Most impressive is their goal differential, which sits at 24 after their first ten games. Manchester City has been nearly impossible to score on this season, as they have allowed just three goals in 10 games.
Liverpool has carried their momentum over from last year by getting off to a 8-2-0 start as well. Like Man City, Liverpool has been led by their defence, which has allowed a paltry four goals in 10 games.
Chelsea, with its record of 7-3-0 (24 points) has also gotten out of the gate quickly, while Arsenal has surprised many by jumping out to a 7-1-2 start.
With the season already 25% complete, many are surprised by the starts that have been posted by the likes of Liverpool and Chelsea. Could they actually steal the league title away from Manchester City this year?
According to bookmakers, the answer to that question is: not likely.
Here are the current betting odds to win the EPL title as of this moment, courtesy of a major European sports book. As you can see, bookmakers are still heavily favouring Man City to win the title:
Man City, 1/3
Liverpool, 7/2
Chelsea, 16/1
Tottenham, 80/1
Arsenal, 100/1
Man Utd, 150/1
Watford, 500/1
As you can see, teams like Tottenham and Man Utd are essentially being counted out at this point. Despite the season being just a quarter finished, these teams have likely fallen too far off the pace to challenge for the title.
Liverpool is being seen as the only real challenger to Manchester City this season. After all, Liverpool made it to the Champions League final last season, so they clearly have the talent to contend. Manchester City is a different beast, however, and Liverpool will have to play near perfect football in order to challenge Man City for the throne.