Liverpool Looking To Become First English Team To Ever Complete The Task
Published on May 5th, 2022 1:33 pm EST
Written By:
Dave Manuel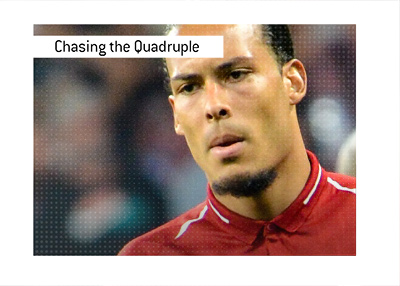 In the Champions League era, winning the Quadruple has proven to be next to impossible.
In the 2021-22 campaign, however, Liverpool has a shot of becoming the first-ever English team to complete the task.
-
In order to win the Quadruple, you need to win:
1. Domestic League (English Premier League)
2. Continental Competition (Champions League, for instance)
3. Both Domestic Cups (FA Cup, League Cup)
Liverpool has a chance of pulling off this feat, as:
1. They have already won the League Cup.
2. They are in the FA Cup Final against Chelsea (May 14th)
3. They are in the Champions League final against Real Madrid (May 28th)
4. They are 1 point behind Man City in the English Premier League
A great deal still needs to happen for Liverpool to accomplish the task of winning the Quadruple. If they manage to pull it off, they will become the first English team to ever do so.
The closest that an English team has ever come to pulling this off prior to Liverpool in 2021-22 was Manchester United in 1998-99. That club completed a treble by winning Premier League, FA Cup and Champions League, though they were knocked out of the League Cup in the quarter-finals.
-
Celtic is the only club that has pulled off a legitimate Quadruple, as they won the European Cup, Scottish First Division, Scottish Cup and Scottish League Cup in 1966-67.
-
Will Liverpool pull off the nearly impossible in 2021-22 to win the Quadruple? They'll need a bit of help in the English Premier League, as they are currently in second, though they hold their fate in their own hands in the Champions League and FA Cup finals.