Odds for Champions League Round of 16
Published on February 10th, 2018 9:49 am EST
Written By:
Ariel Noel
Click Here To Bet on Champions League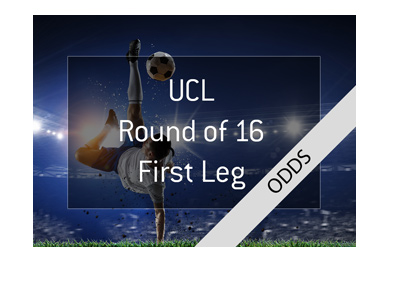 After a long winter break, the UEFA Champions League returns this coming Tuesday with two Round of 16 matches. Two more will be played on Wednesday, and then two again on both February 20th and 21st.
Aside from the Italian Serie A, the winners of the other European big leagues (unless something extraordinary happens) have already been decided. Manchester City, Barcelona, PSG and Bayern are running away with the domestic titles, while Juventus and Napoli look to fight until the bitter end. This makes the Champions league that much more interesting this season, especially with the World Cup in Russia taking place this summer. The players are poised to be extra sharp and will play at their absolute best in an attempt to secure their spot on the national team.
Here are the upcoming UCL first leg games and the odds for each one:
Source: Bet365
Time Stamp:
February 10th, 2018 9:23 am EST
Odds Subject to Change
Tuesday, February 13th
Basel: 9/1
X: 15/4
Man City: 1/3
Juventus: 10/11
X: 9/4
Tottenham: 10/3
--
Wednesday, February 14th
Real Madrid: 7/5
X: 11/4
PSG: 13/8
Porto: 2/1
X: 12/5
Liverpool: 13/10
--
Tuesday, February 20th
Bayern:1/6
X: 6/1
Besiktas: 14/1
Chelsea: 14/5
X: 12/5
Barcelona: 1/1
--
Wednesday, February 21st
Shakhtar: 6/4
X: 12/5
Roma: 17/10
Sevilla: 2/1
X: 12/5
Man Utd:13/10
--
According to the odds, Manchester City, Bayern, Barcelona and Manchester United will have little problems getting through to the next round. The other four matchups look fairly tight. Juventus have a slight edge over Tottenham, Liverpool are the favourites to eliminate Porto, PSG are backed to get past the reining champions Real Madrid and Roma are seen as a better team than Shakhtar.
The odds to win the tournament outright are:
Man City: 10/3
Bayern Munich: 5/1
PSG: 5/1
Real Madrid: 8/1
Man Utd: 14/1
Liverpool: 14/1
Juventus: 16/1
Tottenham: 25/1
Chelsea: 28/1
Roma: 33/1
Sevilla: 100/1
Shakhtar: 125/1
Porto: 125/1
Besiktas: 200/1
Basel: 400/1
--
Let's see how it all plays out. The most important thing is that the Champions League is back and we can turn our football brains back to full power mode.
Enjoy the games everyone!