Initial Odds for UEFA Champions League and Europa League Semi-Finals
Published on April 13th, 2018
Written By:
Ariel Noel
Click Here to Bet on Champions and Europa League Games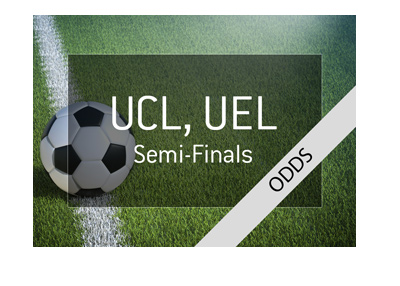 The draw for the UEFA Champions League and UEFA Europa League semi-finals took place earlier today in Nyon, Switzerland. It produced four very exiting matchups, that we can hardly wait to watch.
The quality of games and the all-around excitement in this season's tournaments has been above average, that is for certain. Maybe it is because the World Cup is nearing, maybe it something else. The reason hardly matters.
Let's take a look at the Champions League ties and odds to advance to the tournament final:
Source: Bet365
Time Stamp:
April 13th, 2018 - 7:50 am EST
Odds Subject to Change
Bayern: 6/4
Real Madrid: 1/2
Liverpool: 2/5
Roma: 7/4
Real Madrid vs. Bayern Munich is a clash of the titans that never gets old. The two teams met last season in the quarter-finals, and had to go to extra time. Real Madrid, who went all the way and won the tournament for the third time in the last four years, are the favourites.
The second match is a repeat of the 1984 European Cup final, which Liverpool won on penalties. All eyes will be on the Liverpool star, Mohamed Salah, who transferred from Roma last summer. Salah spent two years in Rome, scoring 29 goals. This is a thrilling tie featuring two surprise semi-finalists.
--
In the Europa League we have the following:
Arsenal: 13/8
Atletico: 4/9
Marseille: 3/4
Salzburg: 1/1
Atletico Madrid are the favourites against Arsenal in this round's marquee matchup. The second tie is more even, according to the odds, with Marseille being the slight favourites over their Austrian opponents.
--
The Champions League first leg games are scheduled to take place on April 24th and 25th, while the returns are set for May 1st and 2nd.
The Europa League matches will take place on April 26th and May 3rd.
Very exciting times in the world of football. We will do a preview for each of the first-leg games over the coming days.