1954 West Germany Team Shocked The World
Published on February 4th, 2022 3:26 pm EST
Written By:
Dave Manuel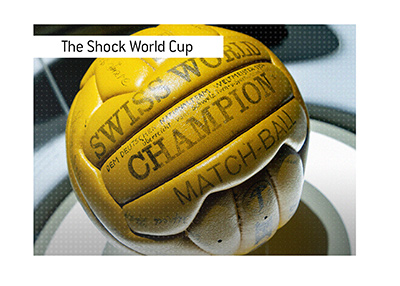 There have been some big underdogs that have won the World Cup.
France, for instance, was 8/1 to win the 1998 World Cup.
Nothing, however, will top the "Miracle of Bern" in 1954, when West Germany shocked everyone to win the World Cup.
Let's start with the fact that the West Germany team was full of semi-professional players, as the team was required by German football authorities to hold down a "real" job as well.
The team captain, Fritz Walter, for instance, ran a laundrette, in additional to playing football.
-
West Germany was included in Group 2 in the 1954 World Cup. This group included themselves, Hungary, Turkey and South Korea.
After a strong start against Turkey in their first Group game, West Germany was absolutely destroyed by Hungary, 8-3.
At the time, Hungary was one of the best teams in the world. They were in the midst of a long unbeaten streak in international competition, which included 6-3 and 7-1 wins over England.
Hungary was good. Very, very good.
West Germany and Turkey would finish with 2 points each in Group Stage play, which forced a playoff game between the two teams. West Germany would end up winning 7-2, though they were expected to be quickly dispatched in the quarter-finals by Yugoslavia.
West Germany would put on a defensive masterclass in the quarters, getting by Yugoslavia by a score of 2-0.
In the semi-finals in Basel, West Germany would continue their momentum, destroyed Austria by a score of 6-1.
-
In the finals, Germany was set to play Hungary once again.
Hungary was in the midst of a 30-game unbeaten streak, and they had easily bested England and Uruguay in the quarter-finals and semi-finals, respectively.
In addition, they had destroyed West Germany in their Group Stage game, which led most to assume that Hungary would destroy West Germany once again.
-
In the final game, Hungary got off to a fast start, jumping out to a 2-0 lead after just 8 minutes.
Instead of capitulating, West Germany rallied and scored two goals themselves to make it 2-2 after 18 minutes.
This enflamed the Hungarian side, as they were bound and determined to retake the lead. Fortune didn't favour them, however, as they would hit the post three times.
The action remained 2-2 until the 84th minute, when the West German side would shock the world by taking a 3-2 lead.
A West German commentator, Herbert Zimmerman, summed it up nicely:
"Germany lead 3-2! Call me mad, call me crazy!"
Hungary had a disallowed goal due to offside in the waning minutes of the game, but they were unable to penetrate the West German defense to tie things up, and West Germany posted the greatest upset in the history of the World Cup.