Two Teams Have Come Back From Three Goals Down To Win
Published on February 10th, 2022 2:47 pm EST
Written By:
Dave Manuel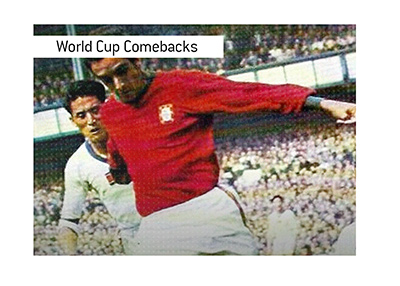 Over the history of the World Cup tournament, there have been two times when a team has stormed back from three goals down to win a game.
Coincidentally, both games occurred in a quarter-final contest - once in 1954, and again in 1966.
-
In 1954, Austria was taking on Switzerland in a quarter-final match.
The game was a wild one - Switzerland stormed out to an early 3-0 lead, only to watch Austria score the next five straight goals to take a 5-3 lead.
Switzerland would make it 5-4 before halftime, though Austria would go on to win the game by a score of 7-5.
There are a few interesting notes about this game:
1. The temperature was extremely high (40 degrees Celcius), which resulted in Austrian goalkeeper Kurt Schmied suffering from hyperthermia early on in the match.
2. Theodor Wagner would record a hattrick for the Austrian side
3. This match still has the record for most goals ever scored in a World Cup match.
Despite winning this match in thrilling fashion, Austria would lose 6-1 to the West German side in the semi-finals.
-
In the 1966 World Cup, North Korea jumped out to a quick 3-0 lead against Portugal.
The North Korean side was decent, as they had beaten Italy in Group Stage play, though Portugal had won all three of their Group Stage games and was concerned a big favourite to win.
Portugal managed to hold strong and start to chip away at the North Korean lead, as they managed to make it 3-2 by halftime.
In the second half, North Korea was dominated and Portugal made them pay, eventually winning the game by a score of 5-3.
Eusebio was the star in this game for the Portuguese side, as he scored four goals in the contest.
Portugal would end up losing 2-1 to England in the semi-finals.