Race for Champions League Qualification Spots Continues in Bundesliga
Published on April 10th, 2018
Written By:
Ariel Noel
Click Here to Bet on Bundesliga Games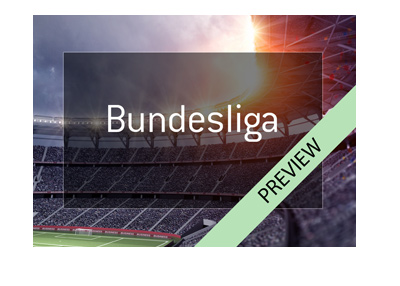 In Germany this season there is Bayern and then there is everyone else. At the moment, with seven games to go, we have five teams with legitimate chances of claiming one of the remaining three spots that lead directly to the UEFA Champions League group stage. This weekend is an interesting one, as four of those five teams face one another.
Schalke, Dortmund, Bayer, Eintracht and Leipzig are all within six points. On Saturday, fourth place Bayer Leverkusen host fifth place Eintracht Frankfurt and then on Sunday, second place Schalke host third ranked Borussia Dortmund.
The Bundesliga points table after 29 games played looks like this:
1. Bayern - 72
2. Schalke - 52
3. Dortmund - 51
4. Bayer - 48
5. Eintracht - 46
6. Leipzig - 46
7. Hoffenheim - 43
--
We do not expect this round of matches to be season-resolving, but nonetheless, a lot is at stake. Here are the current betting odds for the upcoming matches:
Source: Bet365
Time Stamp:
April 10th, 2018 - 7:45 am EST
Odds Subject to Change
Saturday:
Bayern Leverkusen: 3/4
Draw: 13/5
Eintracht Frankfurt: 15/4
Sunday:
Schalke 04: 13/8
Draw: 23/10
Borussia Dortmund: 8/5
--
Odds to finish among the top four in 2017/18 Bundesliga:
Schalke: 1/20
Borussia Dortmund: 1/12
Bayer Leverkusen: 4/9
RB Leipzig: 7/4
Eintracht Frankfurt: 9/1
TSG Hoffenheim: 12/1
--
Bayer Leverkusen are the favourites on Saturday, while the Sunday's match is very even according to the odds. Looking at the numbers, it seems that at the end of the season it will be Schalke, Dortmund and Leverkusen that join Bayern as 2018/19 Champions League group stage entrants.
Couple of big games that follow in the next month or so are Borussia Dortmund vs. Bayer Leverkusen on April 21st and Schalke vs. Eintracht on May 12th - the last day of the Bundesliga season.
It will be interesting to see how things play out. Can Schalke or Dortmund create some breathing room with a big win, or are things going to get even more congested near the top of the table?
Enjoy the games everyone!