Manchester City's 100 Point Masterpiece in 2017-18 Will Be Tough To Beat
Published on January 12th, 2022 11:54 am EST
Written By:
Dave Manuel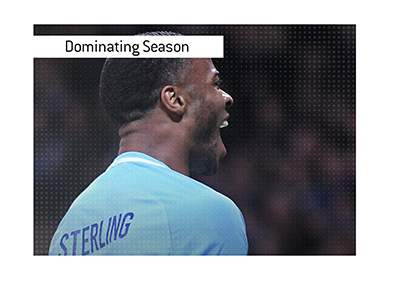 During the 2017-18 English Premier League season, Manchester United put together a very respectable campaign, finishing with a total of 81 points.
Unfortunately for Man Utd, they are part of the record books, as they were on the wrong end of the biggest title-winning margin of all time.
Manchester City became the first and only team to ever finish with 100 points in the English Premier League that year, and they ended up clobbering Manchester United by a record-breaking 19 points.
Man City could have had a laugh after clinching their win, though they kept their foot on the gas and eventually finished with an even 100 points.
-
Manchester City completely dominated from start to finish in 2017-18, finishing with a record of 32-4-2.
Their goal differential, as expected, was eye-popping, as they scored 106 goals in 38 games, while allowing just 27 goals for a total goal differential of 79.
-
Manchester City went on multiple long runs during the 2017-18 season, including:
18 Match Winning Streak
22 Match Unbeaten Streak
-
Over the course of the season, Manchester City lost just twice:
3-2 to Manchester United
4-3 to Liverpool
Manchester City was competitive in each and every game that they played during the 2017-18 season.
-
Given the parity that currently exists in the English Premier League, it's very hard to imagine any team topping the 100 point total anytime soon.
Manchester City put together the greatest season in the history of the EPL.