Netherlands' Shocking 2-0 Win Over Soviet Union Likely Still Tops
Published on July 9th, 2021 1:00 pm EST
Written By:
Dave Manuel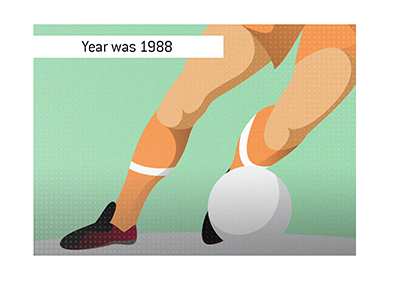 There have been some fantastic finals of the European Championship over the years, as well as some improbable results.
How about Greece, with their lockdown defense, getting past Portugal 1-0 to win the Euro title in 2004?
Or how about Czechoslovakia getting past West Germany in 1976, in what was one of the wilder finals of all time?
There have been some fantastic results over the years, though the Netherlands 2-0 victory over the Soviet Union in 1998 likely stands above the rest.
-
Netherlands made their first ever final in 1988, while the Soviet Union was making their fourth appearance.
The Soviet Union and Netherlands had been in the same Group, with the Soviet Union scoring a 1-0 victory.
Given their experience, and given the results in Group Stage play, most people were expecting the Soviet Union to emerge triumphant.
-
Ruud Gullit and Marco van Basten had other ideas, however, as both men notched goals to give Netherlands the 2-0 win.
The van Basten goal is still regarded as one of the best goals of all time in the finals of a major competition:
The precision of this goal is remarkable, and it completely deflated the Soviet Union side.
-
The Netherlands victory over the Soviet Union included an underdog winning their first title, as well as quite possibly one of the greatest goals of all time, so it gets the nod as the greatest ever Euro finals match.