Record Financial Year for Bayern Munich as Club Announces Two Stars, Robben and Ribery, Will Not Return Next Season
Published on December 3rd, 2018
Written By:
Ned Wilson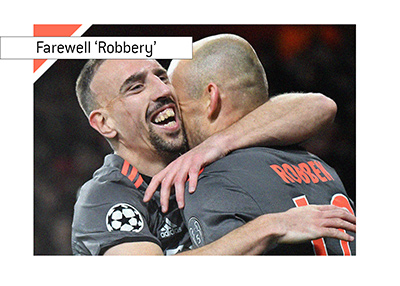 The German football powerhouse announced revenues of €657.4 million with EBITDA of €136.5 million and net income after taxes of €29.5 million. All figures represent an increase in relation to the previous year with revenues being the highest ever recorded by the Bavarian giants and net profit being the third largest in the team's glorious 118 year history.
The largest revenues for the year were generated from sponsorship and marketing deals and totaled a healthy €189.4 million, followed by match related revenues, which stood at €172.7 million, sale of merchandising with revenues of €91.8 million and another €28.2 million from transfer fees.
After a strong year, the management proposed a dividend payout of €0.40 per share, which totals €12 million for the owners of the shares, which are not actively traded on stock exchange. The owners of the club will therefore split these proceeds according to their share in the club based on the ownership structure which is 75,01% owned by FC Bayern Munchen e.V., 8,33% by Adidas AG, 8,33 % by Allianz SE and 8,33 % by Audi AG.
And it is only fitting that the club ends this fiscal year with an announcement that their two biggest stars are going to be leaving the club. Arjen Robben and Franck Ribery will say their farewells to the club at the end of this season after both have spent more than a decade with the team. Robben and Ribery spent 10 and 12 seasons at the club, respectively, playing more than 700 matches between the two and leaving an everlasting mark on this storied franchise. And while these two might have a number of critics, most notably in regards to match fitness and frequent injury woes, there is no doubt that the two wingers will remain remembered as perhaps the best pair of wingers to play for a club in such a long tenure. Along the way the two helped the club to 17 major titles, including a UEFA Champions League title from the 2012/13 season.
--
See also:
Robbery