Barcelona Favorites to Beat Chelsea and Progress to UCL Quarter-Finals
Published on March 10th, 2018 - 9:16am EST
Written By:
Ariel Noel
Click Here to Bet on Barcelona vs. Chelsea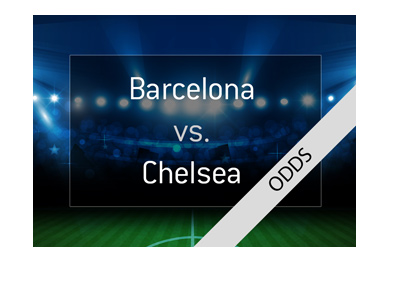 Barcelona host Chelsea in the 2nd leg of the UEFA Champions League Round of 16 on Wednesday, March 14th, 2018 at Camp Nou. The encounters between these two clubs tend to be epic and the upcoming match is a strong contender to end up in that category also.
Willian was outstanding for Chelsea in the first leg 1-1 draw, scoring and hitting the woodwork twice. On the other side, Lionel Messi got his team the very important away goal and Barcelona are now the favourites to win at home and progress to the next round of the tournament.
Here are the odds for the upcoming game:
Source: Bet365
Time Stamp:
March 10th, 2018 - 8:34am EST
Odds Subject to Change
Barcelona: 4/9
Draw: 7/2
Chelsea: 13/2
To advance to quarter-finals:
Barcelona: 1/4
Chelsea: 3/1
--
Prior to the first leg match, Barcelona and Chelsea last met in the 2011/12 semi-finals, with Fernando Torres scoring the memorable winning goal. Despite being in shambles domestically that year, Chelsea proceeded to win the Champions League for their first time. Barcelona last won the tournament in 2014/15, which was their fifth title.
The last season's English Premier League champions, Chelsea, are not in the best form at the moment, nestled in fifth place in the tables. There is constant arguing going on between the team manager Antonio Conte and the club hierarchy, which has caused a loss of focus and could likely result in the club missing out on Champions League football next season.
In Spain, Barcelona are cruising in the league and have practically secured the title after beating 2nd place Atletico in the last match. Barca, at 9/2, are also one of the top candidates to win the Champions League this year.
--
The upcoming game between Barcelona and Chelsea promises to be exciting and is one of those must-see events for the football fans worldwide.
Enjoy it everyone!