Average Salaries in Top Football Leagues Across the World Vary Significantly
Published on December 10th, 2018
Written By:
Ariel Noel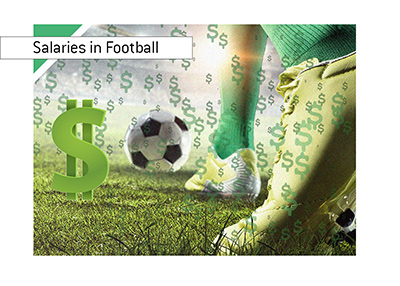 Life is good from a financial side of things for professional footballers who break through and sign lucrative deals with top division clubs from European top five leagues. For players playing elsewhere this is not necessarily the case.
Players playing in the English Premier League, on average, earn the most, just under $4m USD per player per season. This is just their wage. Add endorsement contracts on top and this number can be a lot higher. Players playing in the Spanish La Liga earn just under $3m on average, while players in Italy earn $2m per season.
Here is a list of top 20 average annual salaries in top flight football, ranked by countries:
1. England - EPL - $3,935,197
2. Spain - La Liga - $2,896,151
3. Italy - Serie A - $1,999,865
4. Germany - Bundesliga - $1,837,613
5. France - Ligue 1 - $1,302,347
6. China - Super League - $1,051,603
7. Russia - Premier League - $877,071
8. Turkey - Super Lig - $864,053
9. Brazil - Brasileirao - $670,740
10. Canada - MLS - $519,883
11. Saudi Arabia - Pro League - $507,933
12. Belgium - First Division A - $402,941
13. Mexico - Liga MX - $402, 566
14. Argentina - Primera Division - $379,054
15. Portugal - Primeira Liga - $357,540
16. USA - MLS - $352,992
17. Super League - $324,020
18. Netherlands - $323,488
19. Japan - J-League - $315,043
20. Austria - Bundesliga - $233,110
--
While earning a lot of money during their prime playing years, average football players need to budget for the long term and consider saving as much of it as possible. It is easy to get carried away and spend big while earning big. A player should always consider budgeting for life after football.
In this day and age players start earning large sums in their late teens and finish their careers in the early thirties. This amounts to a decade of prime earnings on average. Players playing in European top flight are arguably able to earn enough to comfortably live out the rest of their lives if they budget correctly. An average soccer player in the USA, on the other hand, will likely need to continue actively earning in some form or another after they hang up their boots. Some players stay in the industry and become coaches and managers, while many will have to consider different career paths after they see out their last playing contract. And this is players playing in top flight that we are talking about. The ones that fail to reach top level, and there are many more of those than the ones that do, will most definitely need to have an alternative plan.
If you are a kid considering a career in football. It is important to always have a plan in case things do not work out. It is great to have a dream and follow your passion, but one has to be realistic. There are millions of kids from around the world trying to make it big in football. If one considers that an average top flight club has between 30 and 40 players on their payroll in any given year, and we consider that there are 100 clubs total across top five European leagues, this amounts to 4,000 players only. The odds of making it are not great.
Be smart. Always try and have a backup plan when dreaming of making it big in professional sports. There are countless stories of ex star players who have financial hardships after they stop playing.