Average Attendance in Top Sports Leagues
Published on December 7th, 2018
Written By:
Ariel Noel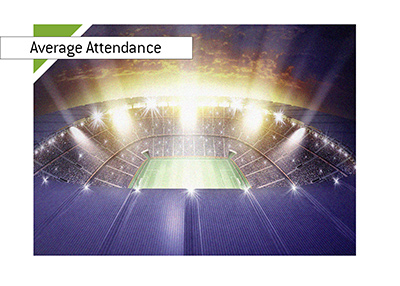 Here we will take a look at the average attendance numbers across the world's biggest sports leagues.
No other league has the numbers the National Football League (NFL) is able to generate when it comes to match attendance. American football is the most popular sport in the U.S. and considering the relatively low number of games played per season, compared to European soccer for example, every game is a big deal and is often played in front of a capacity crowd. Over 67,000 people are in attendance at an average NFL game.
It may come as a surprise that the German Bundesliga has the second largest average attendance numbers. Germans love their football and games there on average have in excess of 44,000 spectators in the stands. This is 6,000 more than the games in the English Premier League and double the number the French Ligue 1 is able to attract.
Below are the top domestic sports leagues in the world, ranked by average league attendance during regular season games for the most recently completed seasons, courtesy of sportingintelligence.com:
1. NFL: 67,405
2. Bundesliga: 44,646
3. EPL: 38,297
4. AFL: 34,818
5. NPB: 29,300
6. MLB: 28,830
7. La Liga: 26,868
8. IPL: 25,714
9. Serie A: 24,767
10. CFL: 24,644
11. CSL: 23,766
12. Ligue 1: 22,524
13. MLS: 21,873
14. J-League: 18,883
15. NBA: 17,987
16. NHL: 17,446
17. SPL: 15,896
18. WNBA: 6,721
--
NFL teams play only 16 regular season games and every game is a spectacle.
The elite level European soccer teams play 38 games in the domestic leagues and on top of that play domestic cup games as well as international games in UEFA sanctioned competitions.
NBA and NHL are played indoors, hence the lower average attendance numbers, due to relatively smaller capacity of arenas compared to stadiums.
The two leagues not included on the list above, due to lack of accurate data available, are the Mexican Liga MX (estimated attendance at an average game is 24,352) and the Australian Big Bash cricket league (estimated 26,528).
--
When it comes to average attendance, the NFL is the king of sports.