Arsenal 1/12 Favourite To Defeat Lincoln on Saturday
Published on March 9th, 2017 4:04 am EST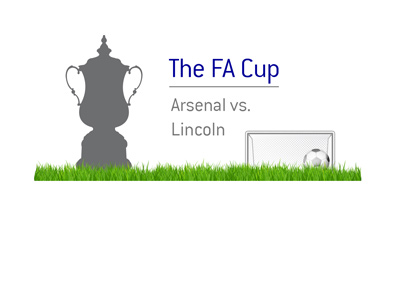 Arsenal will look to put an embarrassing Champions League performance behind them when they take on Lincoln this weekend in FA Cup action.
You can pardon Arsenal and its fans for being a bit shell-shocked, as they were thoroughly humiliated by Bayern Munich 10-2 (aggregate) in Round of 16 Champions League play.
Arsenal has fallen off of a cliff as of late, with many fans clamouring for major changes. The team will look to get back on track this weekend when they play host to Lincoln in FA Cup play.
This could turn into a trap game for Arsenal, as they are expected to easily win. Given their recent struggles, however, you can likely envision a scenario in which Arsenal drastically underperforms expectations for this match.
-
As you can see, Arsenal is the overwhelming favourite to win on Saturday:
Arsenal, 1/12
Draw, 10/1
Lincoln, 28/1
Lincoln is obviously a very big longshot to win, though after Barcelona's unbelievable comeback victory over PSG on Wednesday, anything is possible.
-
Here are the odds to qualify for the next round of the FA Cup:
Arsenal, 1/33
Lincoln, 16/1
Finally, the top three most probable outcomes of Saturday's game, according to the bookmakers:
Arsenal 3-0, 5/1
Arsenal 2-0, 7/1
Arsenal 4-0, 11/2
Arsenal has lost 3 of its last 4 games, including matching 5-1 losses to Bayern Munich and a 3-1 loss to Liverpool in English Premier League play.
Lincoln, on the other hand, is undefeated since January 24th and will enter this game on Saturday with a fair bit of momentum. Lincoln City currently sits at the top of the Conference Premier Standings with a record of 22-6-6, while Arsenal is currently 5th in the English Premier League with a record of 15-5-6.