In an Effort to Lower Expenses, Arsenal Let Gunnersaurus Go
Published on October 5th, 2020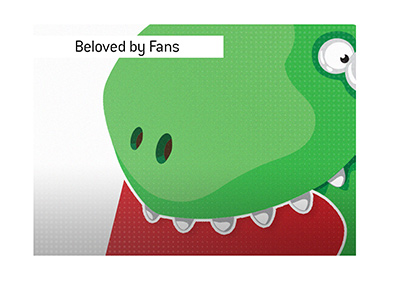 Arsenal Football Club is one of the most famous London-based clubs in the world. Yet, their mascot since 1993 has not been the cannon, as one might expect from their name and badge. Instead, it has been a dinosaur named "Gunnersaurus". In a shocking turn of events, on October 5th, 2020, Arsenal let Gunnersaurus go in an effort to cut costs at the club.
Due to the onset of the COVID-19 pandemic, stadiums in England have been emptied of fans. Even since Project Restart and the beginning of the new season, the stadiums have remained empty. This has taken a toll on Arsenal, which relies highly on matchday fan-income for their revenue. Gunnersaurus is joined by 55 other redundancies at Arsenal in an effort to save money.
The mascot, played by Jerry Quy, is dearly beloved by Arsenal fans. He has remained in character even during lockdown, making a series of "Gunner at home" posts in order to keep spirits high. Even despite this, he has been let go by the club, who insist that the mascot will return at some point.
It is truly a shame, as Gunnersaurus can be considered as the last of the "
Invincibles
" from the 2002-03 campaign at the club. Perhaps now that he is a free agent, some other clubs might be looking to swoop in and pick up such an experienced part of the footballing world? Regardless of where Gunnersaurus ends up, it does seem that Arsenal have made quite a lot of fans mad with this move by the club.