Copa America To Get Underway on June 14th
Published on May 26th, 2019 11:51 am EST
Written By:
Dave Manuel
Click Here To Bet on the Copa America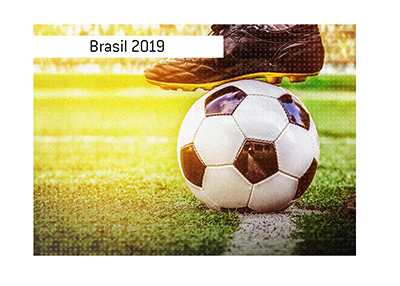 This year's Copa America will take place in Brazil at a total of 6 venues and in 5 different host cities.
Brazil, as the host city, is being given the big edge to win by the sports books, despite the fact that Chile is the two-time defending champion.
There are a total of 12 teams in this tournament that span two different federations. You have your traditional South American teams from CONMEBOL, as well as two invited clubs from the Asian Football Confederation (AFC) - Japan and Qatar. Qatar is looking for all of the experience that it can get in bigger tournaments, as they will be hosting the 2022 FIFA World Cup.
Here are the three groups - the top two teams automatically advance to the next round, while the 3rd place team in each group can potentially advance to a knockout stage game:
Group A
Brazil
Bolivia
Venezuela
Peru
Group B
Argentina
Columbia
Paraguay
Qatar
Group C
Uruguay
Ecuador
Japan
Chile
-
The final game of this tournament will take place at Rio de Janeiro on July 7th. According to the bookmakers, Brazil is expected to be there.
-
Let's take a look at the betting odds for this tournament as of this moment, courtesy of Bet365:
Source: Bet365
Time Stamp:
May 26th, 2019 11:49 am EST
Odds Subject to Change
Brazil, +110
Argentina, +450
Uruguay, +700
Columbia, +900
Chile, +1000
Peru, +2000
Paraguay, +2500
Venezuela, +2500
Ecuador, +3300
Japan, +3300
Bolivia, +3300
Qatar, +8000
-
This is a nice bit of football to get us through the summer months until European league play starts again in August.