Football World Mourns Legendary Diego Armando Maradona
Published on November 26th, 2020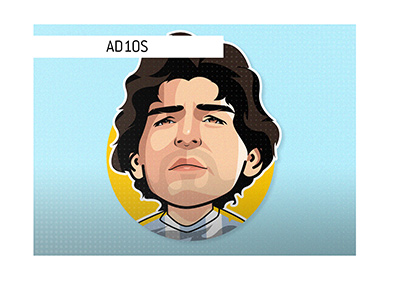 The world of football received crushing news on Wednesday, November 26th in the year 2020. Diego Armando Maradona, widely considered one of (or outright) the best to ever play the game, was reported dead after suffering a heart attack at the age of 60. As the news started to break over the world, tributes started pouring in from fans and professionals alike.
While people often put Maradona in the same category as Pele, Lionel Messi and Cristiano Ronaldo for the conversation of best ever, Maradona stands out for a different reason. He not only played the game in a way people hadn't seen before, he took that wild style off the pitch as well.
Maradona dragged Napoli to two league titles almost on his own, in a time when all of the wealth and success was with the northern Italian teams. He forced Argentina to win the 1986 World Cup with perhaps his two most defining moments: the infamous "
Hand of God
" for the first goal against England, followed by a brilliant run through the entire English defense to score a second four minutes later.
His famous drug use, extravagant lifestyle and outspoken persona meant that Maradona was never far from the spotlight. Yet, regardless of his "feuds" that he would stroke during his playing days, none seemed to last thanks to his boundless charisma.
Now the man once referred to as "a god in Argentina" is being mourned by millions in the South American country alone. There are reports of Napoli attempting to rename their stadium after the legend, which seems a likely outcome. Regardless of footballing allegiances, nobody can deny the joy and greatness of Diego Maradona, who leaves a legacy that many can only dream of.