Mohamed Salah vs. Kevin De Bruyne - Race Down to Two for Players' Player of the Year Award
Published on April 4th, 2018 - 7:02pm EST
Written By:
Ariel Noel
Click Here to Bet on the POY Award Winner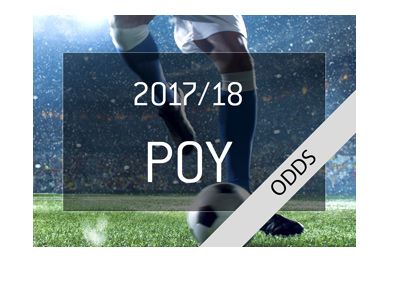 Every spring since 1973-74 the members of the Professional Footballers' Association trade union vote for the best player of the year in English football. The winning player is awarded with the prestigious Player of the Year award.
This year, according to the betting odds, it is a two horse race between Manchester City's midfielder Kevin De Bruyne and Liverpool's right winger Mohamed Salah.
Kevin De Bruyne is the inspiration behind Manchester City's winning machinery. The 26 year old central midfielder has 7 goals and 15 assists so far in the English Premier League season, but this does not paint the whole picture, as he is playing in a deeper role, dictating games rather than getting on the scoresheet. He is a complete midfielder and part of most Man City attacks.
Mohamed Salah is dazzling in his first year wearing the Liverpool shirt and is on track to break several goal scoring records. The 25 year old Egyptian has 29 goals and 9 assists so far this EPL season. Salah is a lethal left-footed winger with awesome energy and a calm mind in high pressure situations.
The current betting odds for the winner of the 2017-18 POY award are:
Source: Bet365
Time Stamp:
April 4th, 2018 - 9:29 am EST
Odds Subject to Change
Kevin de Bruyne: 8/11
Mohamed Salah: 11/10
--
The Belgium international, De Bruyne is the slight favourite to win the award this season. This is justified by the fact that Manchester City are running away with the domestic league title and are dominating most games. Having said that, Liverpool and Manchester City just met in the first leg of the UEFA Champions League quarter-finals, in which Salah definitely stole the show in the 3-0 victory. But this is outside of English football and the votes for the Player of the Year award have already been casted.
The current market values of the two players according to Transfermarkt are:
Kevin De Bruyne - €110m
Mohamed Salah - €80m
--
Here are some of the previous winners of the Player of the Year award:
2016-17 - N'Golo Kante - Chelsea
2015-16 - Riyad Mahrez - Leicester City
2014-15 - Eden Hazard - Chelsea
2013-14 - Luis Suarez - Liverpool
2012-13 - Gareth Bale - Tottenham
2011-12 - Robin van Persie - Arsenal
--
What makes this personal award special is that it is given by fellow professional footballers. This year's winner will be announced at a gala event in London on April 7th.