Paulie Malignaggi Small Favourite Over Artem Lobov
Published on June 20th, 2019 10:09 pm EST
Written By:
Dave Manuel
Click Here To Bet on Malignaggi vs Lobov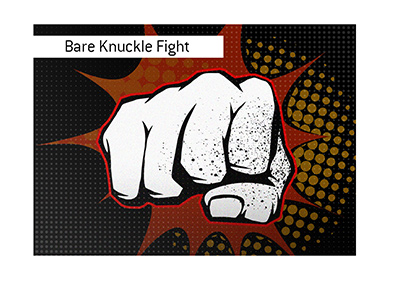 What happens when a formerly high level professional boxer takes on a former UFC fighter in a bare knuckle fight?
This is what we are about to find out in the main event of Bare Knuckle FC this Saturday night, as Paulie Malignaggi is set to take on Artem Lobov.
This fight has been a long time coming and stems from the beef that Malignaggi has with former UFC Featherweight and Lightweight champion, Conor McGregor.
If you'll remember, McGregor brought in Malignaggi to help him prepare for the Floyd Mayweather fight. Malignaggi left the camp earlier than expected and was subsequently enraged after some pictures and video came out of their sparring sessions. Malignaggi felt as though the released video painted him in a poor light, and he raged at McGregor in the lead-up to the McGregor/Mayweather fight.
Artem Lobov is a loyal soldier in the Conor McGregor army, so he lashed out at Malignaggi as well. Conor McGregor will almost certainly never fight in Bare Knuckle FC, thanks to his deal with the UFC, though Lobov was under no such constraints. The promotion got the deal signed between the two camps, with Malignaggi almost certainly planning on calling out McGregor if he wins.
-
Let's take a look at the odds for this fight, courtesy of Bet365:
Source: Bet365
Time Stamp:
June 22nd, 2019 11:26 am EST
Odds Subject to Change
Paulie Malignaggi, 1.44
Artem Lobov, 2.75
As you can see, Malignaggi is a slight favourite to win.
Malignaggi certainly has the cleaner boxing, though he has never fought in a bare knuckle brawl before, while Lobov has. Malignaggi is also known for having fairly brittle hands, which could pose a problem in this fight.
As well, Lobov is notoriously tough and will be very hard to stop, and that makes me wonder how Malignaggi will physically hold up over the course of the fight.
At first glance, Paulie should be the favourite in this fight by a long shot, though questions about his durability have narrowed the odds considerably.