Novak Djokovic Looks To Continue Hot Streak Against Del Potro
Published on September 8th, 2018 11:09 am EST
Written By:
Dave Manuel
Click Here To Bet on Djokovic vs Del Potro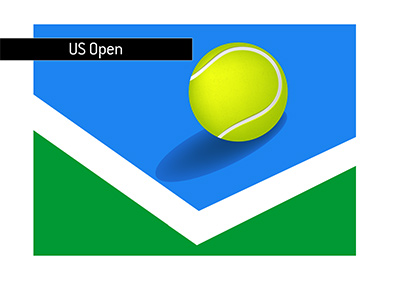 The two biggest stories of the tennis year so far will look to continue playing out this weekend at the US Open, as both Serena Williams and Novak Djokovic seek to continue to re-establish their dominance over the tennis world.
It wasn't that long ago when the tennis world was seriously contemplating life without Novak Djokovic. After dominating the tennis world for a number of years, Djokovic fell on hard times, seemingly losing his touch, finesse and drive to win over night. Djokovic cited personal issues for the reason behind his decline - as he buckled, names such as Rafael Nadal and Roger Federer won the tournaments that were previously reserved for Djokovic.
Djokovic, however, has regained his confidence, and that is bad news for the rest of the men's tennis world.
After winning Wimbledon earlier this year, Djokovic will seek to add a second straight Grand Slam to his trophy case in the US Open finals. Standing in his way will be Juan Del Potro, who managed to advance to the finals following the retirement of Rafael Nadal due to pain.
Momentum is an extremely powerful force in tennis, and Del Potro will need to overcome the surging and confident Djokovic if he wishes to win on Sunday.
Djokovic, for his part, would continue to move back up the rankings ladder with a win on Sunday. He currently sits in the #6 spot, though a win on Sunday would continue to vault him higher.
-
Let's take a look at the odds for this contest, courtesy of Bet365:
Source: Bet365
Time Stamp:
September 8th, 2018 10:58 am EST
Odds Subject to Change
Juan Del Potro, 2.75
Novak Djokovic, 1.44
Set Betting
Juan Del Potro 3-0, 7.50
Juan Del Potro 3-1, 7.00
Juan Del Potro 3-2, 7.00
Novak Djokovic 3-0, 2.87
Novak Djokovic 3-1, 4.00
Novak Djokovic 3-2, 6.00
-
Novak Djokovic became a star at the US Open, and the tennis world desperately hopes that he continues to regain his star standing.
As of this moment, with all of the momentum that he possesses, it seems hard to imagine Djokovic losing on Sunday afternoon.