Feyenoord Possesses Long-Time Record of 12 Goals Scored in a Single Match
Published on November 30th, 2020 6:33 pm EST
Written By:
Dave Manuel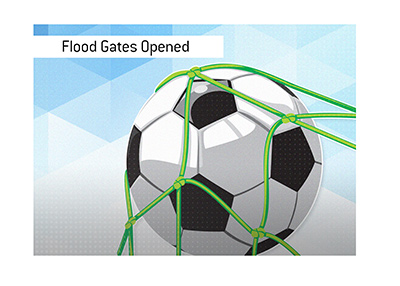 In the first round of the 1969-70 European Cup (now known as Champions League), Feyenoord throttled KR Reykjavik by a score of 12-2.
The goals came early and often by Feyenoord, as they were up 3-0 after the first 20 minutes thanks to strikes from Kindvall, Romeijn and Van Dulvenbode.
The flood gates truly opened after that, as Geels scored four goals for Feyenoord, while Kindvall would also tally a hattrick.
The second leg of the match would be more respectable, as Feyenoord won 4-0.
The 12 goals that Feyenoord scored in that match remain a Champions League/European Cup record, and it could very well stand for decades more.
Here are highlights from the match:
-
There were other teams with double digit one-game totals in the European Cup era, though the current Champions League era is a different story, as the talent is much higher.
No team has ever scored 10 goals in a single game in the Champions League era, though three teams - Borussia Dortmund, Monaco and Bayern Munich - have scored 8 goals in a single game:
Monaco 8-3 Deportivo La Coruna
May 11th, 2003
Borussia Dortmund 8-4 Legia Warszawa
November 22nd, 2016
Bayern Munich 8-2 Barcelona
August 14th, 2020
Here are highlights from the most recent 8 goal single-game result:
-
Note: Feyenoord would go on to win the 1969-70 European Cup