Lionel Messi Currently Favoured (Slightly) to Stay at Barcelona
Published on August 26th, 2020 1:28 pm EST
Written By:
Dave Manuel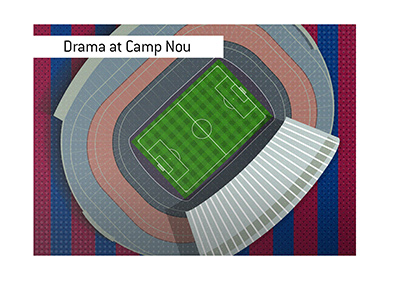 Lionel Messi shocked the football world earlier this week when he asked Barcelona to release him from his contract.
Lionel Messi and his management team believes that he is free and clear to walk away from the deal, and that any team that signs him will not have to pay a transfer fee.
Barcelona reportedly feels differently, as they believe that Messi's deadline to walk away from his deal had already passed. Messi contends that since the season was extended due to COVID-19, his window to exercise his termination clause was also extended.
There are hundreds of millions of dollars at stake in this matter, and Barcelona is expected to fight vigorously to prevent Messi from simply walking away.
-
As of this moment, bookmakers believe that Barcelona is a slight favourite to retain the services of Lionel Messi.
On the other hand, Manchester City is a little worse than a coin flip to land his services.
The rest of the teams that could afford the services of Messi, including the likes of PSG, Manchester United and Inter Milan, are seen as long shots.
-
Here are the current betting odds as to where Messi will play next season, courtesy of a major European bookmaker:
Stay at Barcelona, 1.91
Man City, 2.38
Inter Milan, 13.00
PSG, 9.00
Manchester United, 21.00
Chelsea, 23.00
Juventus, 26.00
Any Chinese Super League Club, 51.00
Any MLS Club, 51.00
Bayern Munich, 67.00
Al Sadd SC, 67.00
Liverpool, 67.00
Leeds, 81.00
Arsenal, 81.00
-
According to reports, Pep Guardiola and Lionel Messi have reportedly been in contact about Messi playing for Man City.
Messi and Guardiola have experience today, as Guardiola managed Barcelona before moving on to Bayern Munich.
-
Will Messi and Barcelona come to an agreement for one final season? Or will Messi end up somewhere else?