Lazio and Inter Fight for Last Italian Champions League Spot
Published on May 15th, 2018 - 8:36am
Written By:
Ariel Noel
Click Here to Bet on Lazio vs. Inter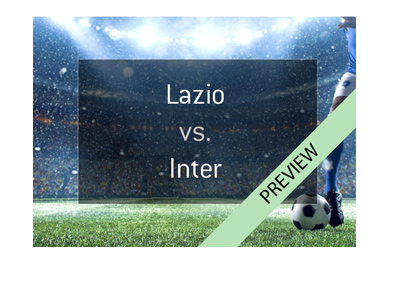 One of the few remaining matches of the 2017/18 European season that have meaning is this Sunday's clash between Lazio and Inter in the last round of the Italian Serie A. The two are battling for fourth place in the standings and Champions League football next season.
Making it to the Champions League is a big deal. From the sporting side of things, and also financially. Lazio can earn their place among the elite with a win or a draw, while Inter will need to win in front of a capacity crowd at the Stadio Olimpico in Rome.
After a surprising set of results last weekend, where Lazio drew away at Crotone and Inter lost at home to Sassuolo, there are three points separating the two clubs. In the Italian Serie A it is the head-to-head record that determines the final position in the tables if the two teams are even on points. Lazio do have a better goal advantage, but since they drew with Inter 0-0 back in December, they will need at least a point on Sunday to finish fourth.
The betting odds for the upcoming match are as follows:
Source: Bet365
Time Stamp:
May 14th, 2018 - 6:11pm EST
Odds Subject to Change
Lazio: 11/8
Draw: 12/5
Inter: 15/8
To finish in top 4 and qualify for UCL:
Lazio: 4/9
Inter: 7/4
--
This is going to be a close match, according to the odds. Lazio are the favourites to qualify for the Champions League, but we will just have to see how things play out.
There is a lot riding on this game. For Inter especially. After a heavy investment over the last few years, Inter need Champions League football, and the revenues that come with it, to balance their books. If they fail, they will likely have to sell their star player, Mauro Icardi, to comply with the UEFA Financial Fair Play rules.
We are in for a very exciting match to close out the 2017/18 season. Will it be Sergej Milinkovic-Lulic and his Lazio teammates celebrating in front of their home fans, or will it be Icardi, Rafinha and co. with their hands up in the air?
Enjoy the game everyone!