Juventus Stock Up Rises Sharply On Ronaldo Transfer News
Published on July 12th, 2018, 9:44am EST
Written By:
Ned Wilson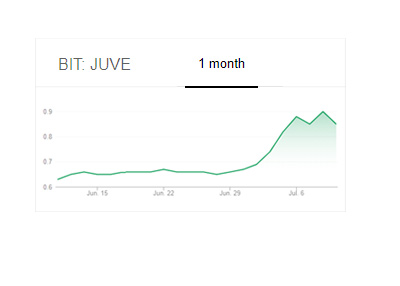 After the signing of Cristiano Ronaldo, which was announced this past Tuesday, not only did the fans of the Italian Giants react positively, but so did the stock markets, with Juventus shares almost 40% up on the news reaching €0.90 on the Italian stock exchange, giving it €900 million market cap.
The initial optimism of past few days subsided since with share price dropping down to €0.84 on today's trade, still up 54% for the last 12 months.
The financial performance of the club remains solid with €457 million of revenues projected for a fiscal 2017/2018, despite having recorded €100 million more in the year before, which was an exceptional year with 45% annual revenue growth, namely due to large player's rights disposals. Recurring revenue growth remains strong however, up 10% and in line with projections.
These expectations are certain to be revised upwards now that Juve have brought on a big star, unseen since the likes of Zidane and Del Piero wore the club jersey. One should expect the sale of products and licenses related to Ronaldo brand to generate additional revenue growth, while the broadcasting rights to their games should see a significant increase in demand across the globe.
On the profitability side of things Juventus looks healthy with EBITDA margins at 24%, down from 28% the year before. Still recurring EBITDA remains on par with the previous year despite a significant increase in player's salaries of about €7.5 million per year. Ronaldo's signing will add some new costs the equation, with his annual salary alone projected to be €30 million.
That number did not go well with the Fiat union, also an Agnelli family owned company, who are scheduled to strikes in protest of austerity measures at the company and lack of salary growth for employees who see unfair that one employee of the group is so vastly overpaid compared to others employed under the same umbrella. The revenue Ronaldo should generate should ease some of these concerns going forward.
With P/E ratio hovering around 18 and what seems to be a very promising 2018/19 campaign, it will be interesting to see how this football stock performs going forward.