Mourinho Currently 3/1 To Get Sacked Next
Published on August 21st, 2018 10:21 am EST
Written By:
Dave Manuel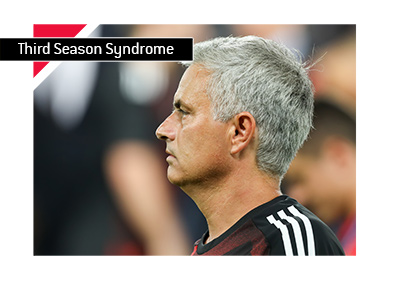 It's been a short and wild ride for Jose Mourinho at Manchester United, though the ride appears as though it might soon be coming to an end.
As of this moment, Mourinho is the leading candidate to be the next manager sacked in the English Premier League.
Here are the top 5 odds to be sacked next courtesy of a leading European sports book:
Jose Mourinho, 4.00
Rafa Benitez, 7.00
Claude Puel, 5.00
Mark Hughes, 11.00
Neil Warnock, 11.00
-
Jose Mourinho recently received the backing of the Manchester United board, though there are rumors that he is not on speaking terms with Executive Vice-Chairman Ed Woodward.
The situation hasn't reached crisis levels as of yet, though Manchester United's fans are antsy following the club's 3-2 defeat against Brighton this past weekend. The top end of the English Premier League table is stacked with talented clubs, namely Manchester City, and Man Utd can't struggle for long if they wish to remain contenders for the title this season.
Mourinho and Man Utd star Paul Pogba have reportedly had a falling out, with Pogba miffed over comments that Mourinho had to say to reporters. This allegedly led to a breakdown in relations between the two men, with Pogba reportedly having demanded that he be sent to Barcelona, Arsenal or Liverpool.
Manchester United can not afford to lose one of their brightest stars, and there is a sense that Mourinho will be the one to go if the two sides can't patch things up.
-
The good news for Man Utd fans is that this blow-up took place early enough in the season so that things can still be salvaged.
The bad news is that Man Utd will need to turn things around and fast or else there will simply be too much room to make up against the league's top teams.