Andrey Klimov vs John Molina Odds
Published on June 7th, 2013 9:36 am EST
John Molina will be taking on unbeaten Andrey Klimov in this week's edition of ESPN Friday Night Fights. The fight will be taking place at the Little Creek Casino Resort in Shelton, Washington.
Let's take a look at the current odds for this fight:
John Molina, -333
Andrey Klimov, +240
According to these odds, John Molina is a sizeable favorite. The odds that I just posted mean that you would need to wager $333 on Molina in order to have a chance of winning $100 in profit back, while a successful $100 wager on Andrey Klimov would yield a total profit of $240.
According to bookmakers, the odds favor this fight moving into the later rounds. Let's look at the current over/under odds:
Over 9.5 Rounds, -150
Under 9.5 Rounds, +110
So, the line on the fight lasting less than 9.5 rounds is a slight underdog.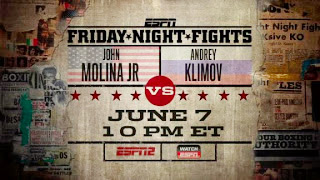 Andrey Klimov heads into his fight against John Molina with a perfect 15-0-0 record, with 8 of his wins coming via knockout.
Having said that, Klimov has never fought anybody of Molina's caliber, and this will definitely be a step up in competition for the Klimovsk, Russia based fighter. Klimov has recently posted victories against the likes of Matias Ezequiel Gomez and Alejandro Rodriguez.
John Molina, on the other hand, currently possesses a professional record of 25-2-0, with 20 of his wins coming via knockout. Molina is looking to build on a one fight winning streak that includes a win over Dannie Williams.
Molina's two career losses have come against Antonio DeMarco and Martin Honorio.