Inter vs. Juventus - Italian Serie A Match Preview
Published on April 26th, 2018
Written By:
Ariel Noel
Click Here to Bet on Inter vs. Juventus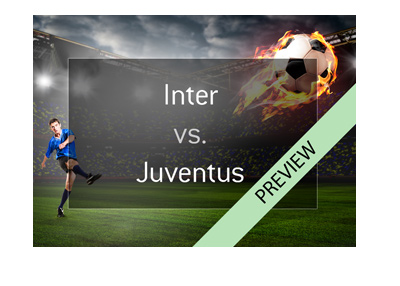 The only big European league where the title race is still open is the Italian Serie A. This weekend, first place Juventus are making a trip to Milan to play against fifth place Inter. This is a big match for both clubs.
Juventus are in first place, one point ahead of Napoli, with four games left in the season. If they are to keep their destiny in their own hands, this is a must win game. Especially considering the form Napoli is in and the fact that that Juve still have to make a trip to play AS Roma. If they can win their remaining four games, Juventus will claim their seventh consecutive Serie A title.
Inter, on the other hand, are one point behind third place Roma and fourth place Lazio, spots that lead to next season's UEFA Champions League. Since winning the tournament in 2010, Inter have been in a considerable slump. Their last appearance among the European elite was in 2011/12.
The odds ahead of Saturday's game at San Siro are:
Source: Bet365
Time Stamp:
April 26th, 2018 - 8:06 am EST
Odds Subject to Change
Inter: 11/5
Draw: 9/4
Juventus: 5/4
Odds to win Serie A title:
Juventus: 10/11
Napoli: 10/11
Odds to finish among top 4:
Roma: 1/5
Lazio: 2/9
Inter: 11/8
--
Even though the two teams played to a 0-0 draw in Turin earlier in the season, Juventus are the favourites to win away at Inter. They are, according to the odds, even with Napoli to win the title this year, after Napoli defeated them 0-1 in the last match.
Juventus has suffered two crushing, last minute defeats within a short period of time. One in the Champions League at the hands of Real Madrid and the second one just last week vs. Napoli. It will be very interesting to see how they react in the upcoming match. Juve also have a tough cup final against AC Milan to prepare for. These are testing time for Juventus.
Inter Milan will be ready for the upcoming match. They won their last two games against Cagliari and Chievo and still have a decent chance of making it to the Champions League next season. Especially if they can beat Juventus on Saturday.
This should be a great match, between two rival northern Italian clubs with rich histories. It is called Derby d'Italia for a reason.
A lot is at stake this time around.
Enjoy it everyone!