FIFA 19 Outsells PES 2019 at 22 to 1 Ratio
Published on September 18th, 2019
Written By:
Ariel Noel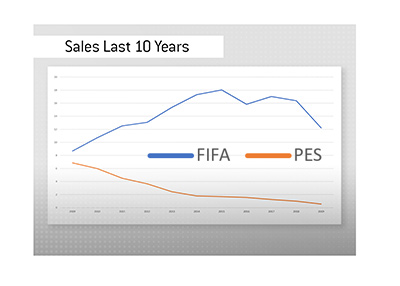 Another soccer season is upon us in the world of video games. The Pro Evolution Soccer 2020 game by Konami started selling on September 10th, while the more anticipated title these days, FIFA 20 by EA Sports, is set to be released on September 23rd. As we have done so in the past, we will go over the sales numbers for the previous versions of the two games to see if there are any obvious trends.
FIFA 19 sales by console
PS4 - 9.15m
XOne - 2.22m
NS - 0.75m
X360 - 0.06m
PS3 - 0.04m
FIFA 19 total: 12.22m
FIFA 18 total: 16.36m
FIFA 17 total: 17.02m
FIFA 16 total: 15.82m
FIFA 15 total: 18.03m
FIFA 14 total: 17.31m
FIFA 13 total: 15.36m
FIFA 12 total: 13.06m
FIFA 11 total: 12.53m
FIFA 10 total: 10.72m
FIFA 09 total: 8.67m
--
PES 2019 sales by console
PS4 - 0.50m
XOne - 0.05m
PES 2019 total: 0.55m
PES 2018 total: 1.00m
PES 2017 total: 1.26m
PES 2016 total: 1.56m
PES 2015 total: 1.70m
PES 2014 total: 1.80m
PES 2013 total: 2.45m
PES 2012 total: 3.66m
PES 2011 total: 4.50m
PES 2010 total: 5.98m
PES 2009 total: 6.87m
--
The thing that stands out the most when looking at the numbers above is that both games have seen a sharp drop in sales of their most recent editions. This might come as a surprise as the marketing and licensing efforts of Electronic Arts, the maker of FIFA, seem to be on the rise. Perhaps this is due to the fact that year 2019 did not feature a large tournament such as the World Cup or the Euro Cup. The EA itself claims that the big reason for lower sales is that a lot of people opted to keep playing FIFA 18 instead of upgrading. FIFA 18 did feature the popular World Cup 2018 France extension.
While the number of units sold went down, this likely did not translate to lower revenues for Electronic Arts. There are more options and more ways to spend money within the game than ever before. The best example is the widely accepted
Ultimate Team
game mode, where a user can improve his or her team by paying for better players.
--
The Pro Evolution Soccer title continues to take a beating by FIFA in the overall sales. The ratio of unit sales between the two games is now a staggering 22:1. Ten years ago the two video games were neck and neck. It has been all downhill for PES since.
The Pro Evolution Soccer title was only available for PS4 and XOne consoles in 2019 and maybe that has something to do with a rather sharp decline in sales compared to last year.
After losing most of their league and tournament licenses over the years to FIFA, PES managed to get exclusive rights for the Serie A club Juventus for the upcoming season. It is interesting to note that Cristiano Ronaldo, who graced the cover of FIFA 19, now plays for the Italian champions. Will this make a difference in sales of the 2020 version of the game remains to be seen. PES will likely have a cult following for years to come, but unless there is a monumental change of some sort, the game is slowly but surely slipping into irrelevance.
The FIFA 20 title, on the other hand, is likely to feature the official European Cup extension later in the year, which could significantly boost its sales compared to last year.
--
Source: VGChartz