Salzburg Look to Qualify for Europa League Quarter-Finals for First Time
Published on March 12th, 2018 - 8:30am EST
Written By:
Ariel Noel
Click Here to Bet on Salzburg vs. Dortmund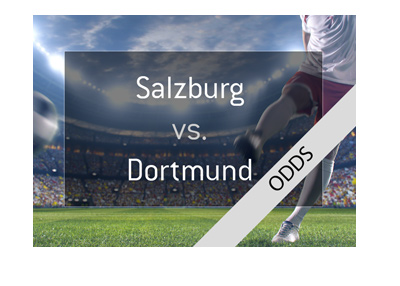 FC Salzburg host Borussia Dortmund in the second leg of UEFA Europa League Round of 16 on Thursday, March 15th, 2018. With the abundance of big European matches coming at us week after week, this really is a great time of the season for football fans.
FC Salzburg scored the ever so important two away goals at Iduna Park in Dortmund, winning the game 1:2, which sets up an entertaining second leg fixture against one of the German greats. The Austrian champions hope to continue their 18-match unbeaten run in Europe and reach the quarter-finals of the UEL, something no Austrian club has managed to do since the new league format was installed. Salzburg are domestic league and cup double winners for the past four seasons and the next step in progression would be to go far in one of the European competitions.
Borussia Dortmund are finding form and coming back to fitness under Peter Stoger, who took over the managerial duties in December of last year. Marco Reus, Andre Schurrle and Michy Batshuayi are a formidable attacking line for the club and will pose a threat to the confident Austrians. They will need to score more than one goal in order to have a chance of progressing. Dortmund are currently 3rd in the Bundesliga standings, one point behind Schalke and 21 points behind Bayern. They crossed over to the Europa League after earning only two points in their Champions League group, which featured Real Madrid and Tottenham.
The odds for the upcoming game at Stadion Salzburg are:
Source: Bet365
Time Stamp:
March 12th, 2018 7:25 am EST
Odds Subject to Change
Salzburg: 2/1
Draw: 9/4
Dortmund: 11/8
To qualify for quarter-finals:
Salzburg: 1/3
Dortmund: 9/4
--
Borussia Dortmund are small favourites to win the match, but the big two away goals are a heavy burden and Salzburg are, according to the odds, the favourites to advance to the next round.
There is a lot of good Europa League matches to choose from on Thursday, and if you select to watch this one, you are likely in for a treat. Attacking football is what Borussia Dortmund do best, while Salzburg have a lot to prove to the world.
Enjoy the match everyone!