Erling Haaland Made a Big Splash at 2019 FIFA U-20 World Cup
Published on August 24th, 2022 2:18 pm EST
Written By:
Dave Manuel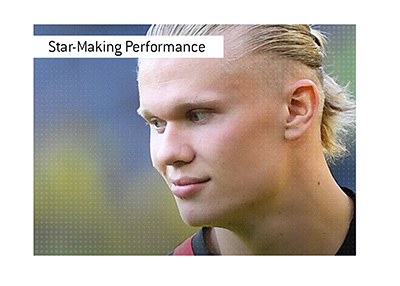 The day that Erling Haaland, now considered one of the top football players in the world, put his name firmly on the map?
May 30th, 2019.
That was the day that Erling scored a remarkable 9 goals in a FIFA U-20 World Cup group stage match against Honduras.
-
In most cases, a player would be pulled from a game far before they would have a chance to score nine goals.
Circumstances, however, dictated that Norway needed to score as many goals as possible, as they were hoping to be one of the four third-place teams that qualified for the knockout round.
After losing their first two games of the group stage to Uruguay and New Zealand, Norway had a chance to make it through to the knockout stage, but they'd need to get some help plus score as many goals as possible.
This is exactly what happened, as Norway destroyed Honduras, by far the weakest team in the group, by a score of 12-0.
-
Erling Haaland was absolutely unstoppable in the game, as he scored goals in the 7th, 20th, 36th, 43rd, 50th, 67th, 77th, 88th and 90th minutes.
The crazy thing about the game is that Haaland could easily have had 15 goals in the contest, as he was actually quite unlucky at times, hitting the crossbar or just barely missing the net on a great opportunity.
As the Honduran defense became more and more frustrated, Haaland continued to shine. The defenders had no clue how to deal with someone of Haaland's talent, and he continued to torch the defense far into the second half.
Eventually the referee mercifully blew the final whistle, and Haaland walked away with one of the greatest one-game performances in the history of football.
-
While Norway wouldn't make the knockout stage, Haaland enjoyed a star-making performance.