Can Chelsea Finish in the Top 4?
Published on March 26th, 2018 4:51 pm EST
Written By:
Dave Manuel
Click Here To Bet on Football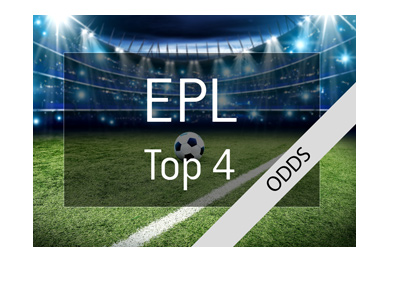 While Manchester City has practically clinched the English Premier League title this year, there remains a spirited fight for the top 3-4 spots in the table.
The top three English Premier League finishers will automatically qualify for a Champions League spot next year, while the fourth place finisher will enter a play-off round for non-champions.
Any team that finishes below 4th in the English Premier League will instead be fighting for a Europa League spot.
With 7-8 games left in the English Premier League season, the top of the table looks like this:
Man City, 81 points
Manchester United, 65 points
Liverpool, 63 points
Tottenham, 61 points
Chelsea, 56 points
Arsenal, 48 points
As you can see, Man City has already punched their ticket to Champions League next season (and they may very well win this year as well, given how well they are currently playing). Manchester United and Liverpool would both have to spectacularly collapse in order to miss out on Champions League, while Tottenham has a game in hand on 3rd place Liverpool.
There are two teams that are currently on the outside looking in that are hoping for a small miracle - Chelsea and Arsenal. Arsenal is a full 13 points back of 4th place Tottenham, so they are not really in contention, though they are mathematically still alive.
This leaves Chelsea to fight between Liverpool and Tottenham for one of the last spots - either the third place position (automatically entry to the Champions League group stage) or the fourth place spot (entrance to the playoff round).
Chelsea and Tottenham both have a game in hand on Liverpool, though Liverpool is playing very well right now and seems to have no intention of getting caught.
-
Here is a look at the current betting odds to finish in the top 4 in the English Premier League, courtesy of Bet365:
Source: Bet365
Time Stamp:
March 26th, 2018 4:42 pm EST
Odds Subject to Change
Man Utd, 1.01
Liverpool, 1.08
Tottenham, 1.14
Chelsea, 3.5
Arsenal, 101.00
As you can see, Man Utd and Liverpool have virtually clinched their spots in the top 4, while Arsenal is seen as a very long shot.
This leaves Chelsea to try to make up the gap between themselves and Man Utd, Liverpool or Tottenham.
Given the size of the gap, Chelsea needs to essentially win out to stand a chance.