Chelsea Break Transfer Record for Goalkeeper Kepa Arrizabalaga
Published on August 9th, 2018
Written By:
Ned Wilson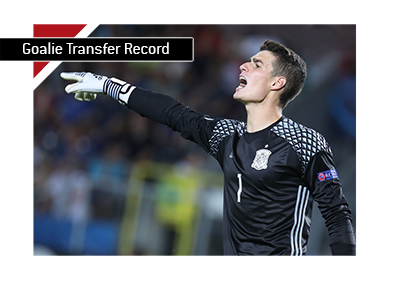 The summer of 2018 will be remembered as the summer of unexpected transfers such as Ronaldo's departure from Real, Buffon's move to PSG and Higuain leaving Juve to put on the AC Milan shirt. And then there will be goalie transfers that have shook the financial playbook when it comes to this highly important position in football.
We first reported on a
deal for a Brazilian international goalie Alisson
for a record €63 million plus a €10 million in potential performance related added transfer costs. His salary was reported to be €200.000 per week and it seemed like that transfer was gonna hold the mark for the most expensive goalie for some time to come.
Lo and behold, little did we know that only two weeks later the record would be shattered in a spectacular turn of events, which saw Chelsea pay a staggering €80 million for Kepa Arrizabalaga of Athletic Bilbao of Spanish Primera, offering him a weekly salary of €100.000. That in part was predicated by Thibaut Courtois of Chelsea FC, who agreed to move to Real Madrid for €35 million in a deal that will see him stay at Bernabeu for six years with a reported salary of €220.000 per week, making him the highest paid goalie in the world. Chelsea were aware for some time of Courtois' wish to move to Madrid (where his kids live) and despite the efforts to keep the Belgium international between posts in London by offering him a record salary and other benefits, Thibault decided to change the club and move to Spain.
It is worth noting that Mateo Kovacic is heading in the direction opposite of Courtois, and is set to join Chelsea on a loan from Real Madrid as a part of this deal. The Croatian international leaves the Spanish capital after three years at the club following his move from Inter Milan in 2015, which cost Spanish giants €31 million. Kovacic made just 17 appearances in La Liga last season and moves to the Premier League in search of regular first-team football. He also played five games during Croatia's run to the World Cup final this summer.
And thus it is no surprise that of the ten biggest transfers this year, two were for goalies, showing the growing willingness of teams to cash out for players at this position. It is worth noting that only Mbappe's €135 million transfer to PSG and Ronaldo's €117 million to Juventus are more than what Chelsea has paid for Kepa Arrizabalaga.
The transfer window is still open everywhere, but in England where it ends on August 9th at 5 pm, while many interesting developments are yet to come from other European leagues, before all settles down at the end August.