Champions League Semi-Finals Second Leg Odds
Published on April 30th, 2018 - 8:56am EST
Written By:
Ariel Noel
Click Here to Bet on Champions League Games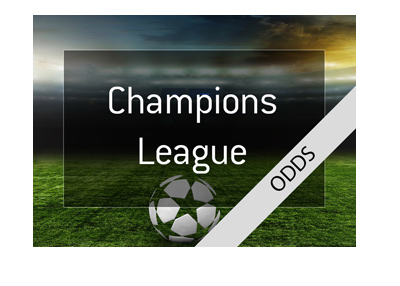 The second legs of the UEFA Champions League semi-finals are coming to us on Tuesday and Wednesday of this week. It would appear that Real Madrid and Liverpool have a hold on their spots in the final, but in this tournament, especially considering the recent upsets, one just never knows.
Bayern Munich are capable and stand a decent chance of beating Real Madrid at the Bernabeu, but they will need to score at least two goals to make this into a contest. The fact that they have lost six matches in a row against Real does not look good for the Bavarian club.
Liverpool trashed Roma in the first leg match at Anfield, though Roma managed to keep their hopes alive with a mini comeback towards the end. Roma did muster up an enormous upset against Barcelona FC in the last round, but the consensus is that Barca basically fell asleep in that game.
Let's take a look at the current betting odds for the semi-final second legs:
Source: Bet365
Time Stamp:
April 30th, 2018 - 8:22 am EST
Odds Subject to Change
Real Madrid: 23/20
Draw: 3/1
Bayern Munich: 11/5
To advance to the final:
Real Madrid: 1/4
Bayern Munich: 11/4
--
Roma: 31/20
Draw: 3/1
Liverpool: 8/5
To advance to the final:
Roma: 9/1
Liverpool: 1/16
--
To win tournament:
Real Madrid: 11/10
Liverpool: 6/4
Bayern Munich: 6/1
Roma: 33/1
--
Real Madrid, who are looking to win their third Champions League in a row, are the favourites to win in front of their fans and sizable favourites to go through to the final. Real are also the favourites to win this year's tournament, but not by much. Liverpool is right up there, thanks in part to the fact that they have practically already qualified for the game in Kiev, but also thanks to the amazing performances of Mohamed Salah, Roberto Firmino and company.
Roma are the favourites to win the Wednesday's match at home, but with a small margin. If they manage another comeback, a 3-0 or a 4-1 victory would do the trick, that would go into the history books of all things awesome.
Enjoy the games this week everyone. There is a long break until the final, which takes place on May 26th. There is a football big game void coming up, considering that all the domestic leagues are decided. But, the great news is that the World Cup is just around the corner and the summer will be action-packed.
Let's see how things play out this week.