First Major Sporting Event Cancelled in United States Due To Virus
Published on March 9th, 2020 12:23 am EST
Written By:
Dave Manuel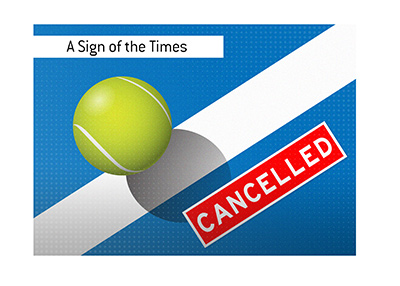 The first major sporting event in the United States has been cancelled due to the Coronavirus.
Earlier tonight, tournament organizers announced that the 2020 BNP Paribas Open has been cancelled due to the Coronavirus.
Tournament organizers made the decision following the revelation that the Riverside Public Health Department had declared a public health emergency for the Coachella Valley.
After consulting with "medical professionals, the CDC and State of California", tournament organizers made the difficult decision to cancel the tournament.
The BNP Paribas Open was set to begin on March 9th and run until March 22nd.
-
The tournament is one of the bigger non-Grand Slam events of the tennis season, as all of the top 75 ranked WTA and ATP Tour players are given entries into the tournament.
With the exception of injuries to the likes of Roger Federer, all of the top players in the world were expected to attend, including Novak Djokovic and Serena Williams.
Players were lured to the event by the nice weather (Indian Wells, California) and the large prize pools - last year, more than $9 million was paid out to both the men's and women's draws.
In addition, this is an important tournament as players prepare for the upcoming Grand Slam events in the spring and summer.
-
In cancelling the event, tournament organizers said that there was too great of a risk in "holding a large gathering of this size".
Here is some of their official comment:
The 2020 BNP Paribas Open will not be held.https://t.co/BVKQmmcbth pic.twitter.com/CHOd0PgJeV

— BNP Paribas Open (@BNPPARIBASOPEN) March 9, 2020
-
Full refunds are being offered if you purchased a ticket to the event, and any bets that may have been placed on the tournament will be voided and refunded.