Four Teams Have Overcome Three Goal Deficits To Win in EPL
Published on April 17th, 2022 1:17 pm EST
Written By:
Dave Manuel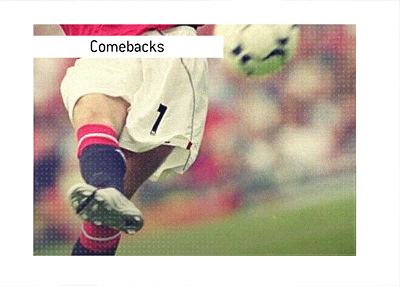 What was the biggest comeback for a victory in English Premier League history?
In the history of the EPL, four different teams have come back from three goal deficits to win a game, with the most recent occurring in 2003.
-
Here are the four times when a team overcame a three goal deficit to win in the EPL:
1. Leeds United 4-3 Over Derby County, November 8th, 1997
2. Wimbledon 4-3 Over West Ham, September 9th, 1998
3. Manchester United 5-3 Over Tottenham Hotspur, September 29th, 2001
4. Wolverhampton 4-3 over Leicester City, October 25th, 2003
-
In the game between Leeds United and Derby County, Dean Sturridge helped to get Derby County out to a quick 3-0 lead before Leeds scored two quick goals before the end of the first half. Leeds would continue the comeback after notching two goals in the last ten minutes of the game.
In the game bewtween Wimbledon and West Ham, West Ham was up 3-0 after 27 minutes, thanks in large part to two goals by Ian Wright. After making it a 3-1 game at the half, Wimbledon would come roaring back, scoring three goals in the last 25 minutes of the game.
The game between Man Utd and Tottenham was a tale of two games, as Tottenham had a comfortable 3-0 lead at the half. After that, it was all Man Utd, as David Beckham and Ole Gunnar Solskjaer were instrumental in leading Man Utd to 5 second half goals.
The game between Wolverhampton and Leicester City was similar, as Leicester City had a 3-0 lead at the half. Dave Jones, the manager for Wolverhampton, must have said something special to inspire the troops at the half, as his team would score four goals in the second half of the game to win 4-3.
-
The biggest comeback for a draw in EPL history belongs to Newcastle United, which overcame a 4-0 deficit to fight to a draw with Arsenal, 4-4.