Brazil v Mexico Betting Preview and Odds
Published on July 1st, 2018 11:01 am EST
Written By:
Dave Manuel
Click Here To Bet on Brazil vs Mexico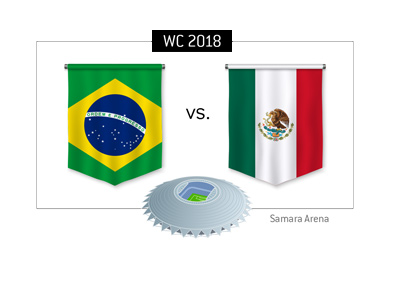 Can Mexico slay two dragons at the 2018 World Cup in Russia?
Earlier in the tournament, Mexico defeated Germany during Group Stage play to send shockwaves throughout the football world. Germany would never recover from the loss, eventually succumbing to South Korea in their final match and getting eliminated from the event in humiliating fashion. The people of Mexico were so pumped by the win that their celebrations actually caused a small earthquake.
Mexico will look to do it again on Monday when they do battle against the Brazilian side. Brazil has not looked particularly strong in this tournament, as they played to a draw against Switzerland and eked out two underwhelming victories against Serbia and Costa Rica.
Mexico will be entering this match will absolutely nothing to lose, as they have already thrilled their country and outperformed expectations.
Brazil, on the other hand, will likely feel a great deal of nerves, as anything less than a World Cup victory for Neymar and company, especially given the early exit by Germany from the tournament, would be seen as a disaster.
Let's take a look at the odds for this match, courtesy of Bet365:
Source: Bet365
Time Stamp:
July 1st, 2018 10:50 am EST
Odds Subject to Change
Brazil, 1.5
Draw, 4.2
Mexico, 8.0
Here are the odds to qualify:
Brazil, 1.2
Mexico, 4.33
-
While Brazil certainly has the talent advantage in this game, Mexico has an important factor on their side - momentum.
Brazil has shown in the past that they don't respond particularly well to pressure, and you can envision a scenario where Mexico gets out to a lead and the Brazilian team proceeds to fall apart.
In order for Brazil to win this match, you'd have to think that they would need to get out to an early lead. The longer the match goes without a goal, the tighter the Brazilian side will likely play and the more this will play to Mexico's advantage.
This is certainly one of the most intriguing match-ups of the Round of 16, as you could easily see one of the favourites of the tournament get bounced.