Can Bayern Munich Overcome Atletico Madrid at Home?
Published on May 3rd, 2016 3:06 am EST
On Tuesday, Atletico Madrid will attempt to knock off another giant of the football world when they travel to Germany to take on Bayern Munich in a Champions League semi-final clash.
Despite Bayern Munich entering the semi-finals as the clear favourite to advance to the Champions League finals, Atletico Madrid turned in a strong effort at home, topping Bayern Munich 1-0. Not only did Atletico Madrid do themselves a favour by winning, but they also vastly improved their chances by holding Bayern Munich to zero away goals.
Bayern Munich will need a win on Tuesday and they will need to win by at least two goals in order to ensure victory. If Bayern Munich wins by a goal and Atletico Madrid gets on the score sheet, Atletico Madrid will be moving onto the Champions League finals.
-
Bayern Munich is favoured to win on Tuesday, though Atletico Madrid is favoured to advance to the finals. Here are the current odds:
Tuesday's Game
Bayern Munich, 1.61
Draw, 3.60
Atletico Madrid, 6.00
Odds to Qualify for Champions League Finals
Bayern Munich, 2.10
Atletico Madrid, 1.67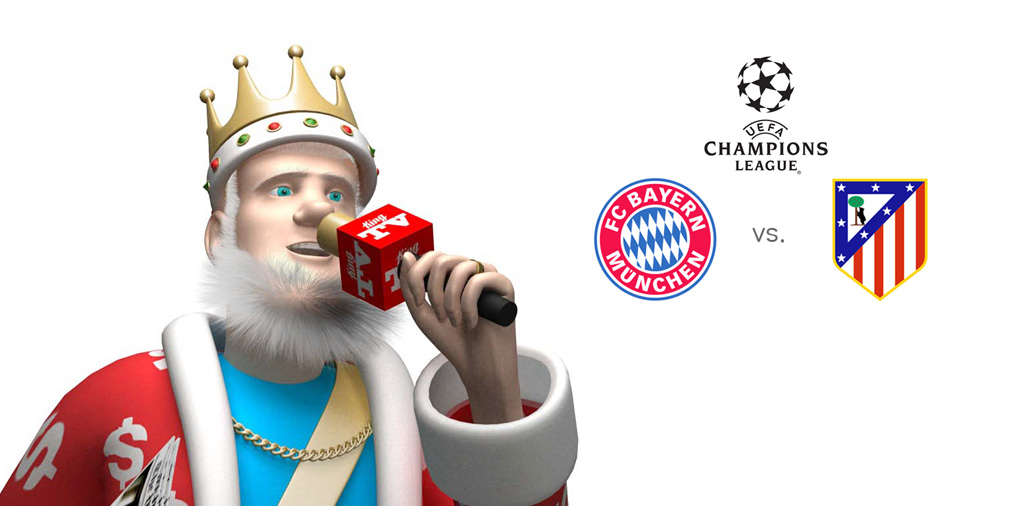 According to the oddsmakers, a 1-0 win for Bayern Munich on Tuesday is the likeliest outcome, as it is currently listed at 6.00. If this happens, the game will go to extra time.
The second likeliest outcome is a 2-0 win for Bayern Munich. If this happens, Bayern Munich will move on to the finals.
The third likeliest outcome? A 1-1 draw, which would result in Atletico Madrid moving forward.
As you can see, there are any number of scenarios that could easily take place on Tuesday. This should be a fantastic game.