AC Milan vs. Arsenal - Europa League Preview
Published on March 7th, 2018 - 8:06am EST
Written By:
Ariel Noel
Click Here to Bet on AC Milan vs. Arsenal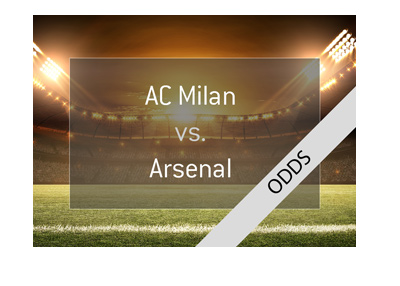 The standout Round of 16 Europa League first leg clash, coming to us this Thursday, March 8th, is AC Milan vs. Arsenal. The game between the two classic European powerhouses will kick off at 7pm local time at the San Siro Stadium in Milan.
AC Milan were absent from European competition for four years and seem to be making a comeback. This season they had to fight from the preliminary rounds of the competition, but they are here now, facing Arsenal, one of the favourites to win the tournament. AC Milan changed ownership recently and went on a spending spree over the summer, strengthening their squad. The marquee signing was the Italian international and one of the best defenders in the sport, Leonardo Bonucci. AC Milan are on a 13 game unbeaten run and have made the final of Copa Italia, where they will face Juventus. The team is enjoying the presence of the newly appointed manager, legendary AC Milan midfielder, Gennaro Gattuso.
Arsenal have seen better days under Arsene Wenger and are currently in 6th place in the English Premier League tables, with slim chances of making it to the Champions League next season. Unless of course they win the Europa League, which must be a priority for the club at the moment.
Both Milan and Arsenal finished at the top of their groups, with Milan eliminating Ludogorets in the Round of 32 and Arsenal outplaying Ostersund.
The odds for the upcoming match are:
Source: Bet365
Time Stamp:
March 7th, 2018 - 7:57am EST
Odds Subject to Change
AC Milan: 11/10
Draw: 5/2
Arsenal: 14/5
To qualify to quarter-finals:
Ac Milan: 11/10
Arsenal: 4/6
--
According to the odds, Milan are the favourites to win the first leg match at home, while Arsenal are the favourites to advance to the next round.
This promises to be an entertaining encounter. Can Milan continue to restore some of their glamour, or will Arsenal take care of business and make a step towards Champions League, where they have maintained a steady presence over the years?
Enjoy the game everyone!